Give Black, Give Back Celebrates Black Philanthropy Month 2020
At The Community Foundation of Middle Tennessee (CFMT), the Give Black, Give Back initiative launched following CFMT's inaugural celebration of Black Philanthropy Month in 2019. Black Philanthropy Month has been recognized globally since 2011 upon its creation by Jackie Bouvier Copeland, a San Francisco Bay-area social and environmental justice activist.
The focus of Give Black, Give Back is to support Black-led funds established at CFMT. The initiative is dedicated to fostering collaboration between its fundholders and establishing new partnerships among Black philanthropists and nonprofits with similar aspirations.
Give Black, Give Back planned a host of events for Black Philanthropy Month 2020 under the direction of co-founders and co-chairs Kia Jarmon and Lisa Swift-Young and the initiative's coordinator Audra Cox. This virtual event series included conversations to encourage Black philanthropy and inspire generational wealth building within Black communities.
In addition, the CFMT team published several stories to highlight the history of Black philanthropy in Nashville while wrapping in stories of Black suffragists as we also celebrated 100 Years of Women's Suffrage.
---
Listen to Lightning 100's Nashville By Nicole interview with our Give Black, Give Back Team to Kick Off Black Philanthropy Month.
---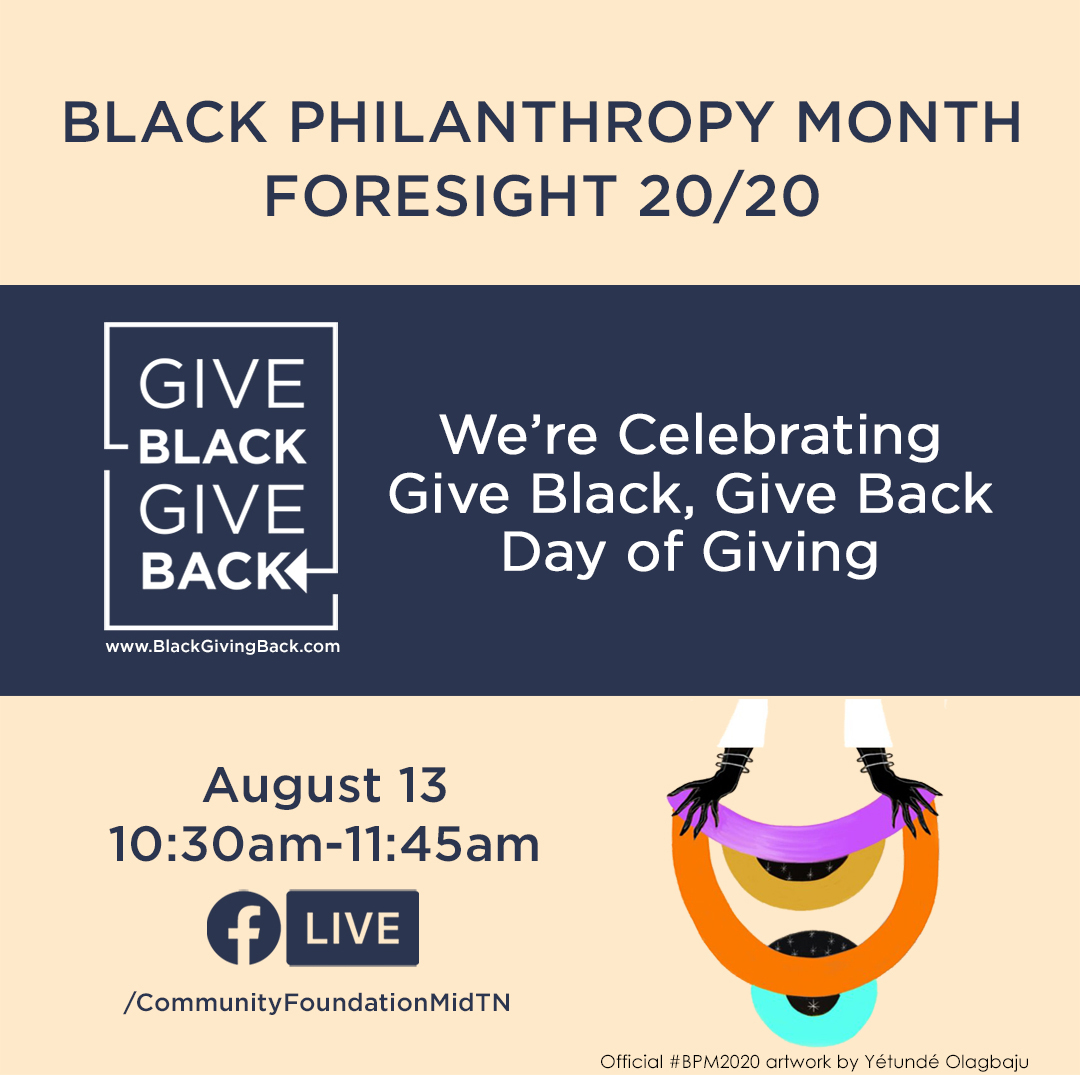 ---
Black Philanthropy Month Conversations Playlist
---
---
Stories
---
About Black Philanthropy Month
Since its establishment in 2011, Black Philanthropy Month has reached roughly 17 million people and become an increasingly year-round, diasporic initiative that illuminates the ingenuity and transformative impact of generosity in Black communities. Primary aims of BPM are informing, involving, inspiring and investing in Black philanthropic leadership to strengthen African-American and African-descent giving in all its forms, for the benefit of our planet, our communities, our organizations and our lives.
About the Official Black Philathropy Month Artwork 
Each year, the Black Philanthropy Month poster serves as a visual representation of the annual theme and aims to inspire giving, advance the ideals of our movement and ultimately shape 21st century philanthropy.
BPM 2020 poster was illustrated by artist Yétundé Olagbaju who shared about the 2020 BPM theme, "When I think of "foresight" I think of preparedness, exchange, knowledge of self, and the community that supports us all in thriving."