"But, if this part of our history could be told in such a way that those chains of the past, those shackles that physically bound us together against our wills could, in the telling, become spiritual links that willingly bind us together now and into the future – then that painful Middle Passage could become, ironically, a positive connecting line to all of us whether living inside or outside the continent of Africa."
-Tom Feelings, illustrator, author, teacher, and activist
---
"Juneteenth is a day of reflection, a day of renewal, a pride-filled day. It is a moment in time taken to appreciate the African American experience. It is inclusive of all races, ethnicities and nationalities – as nothing is more comforting than the hand of a friend."
"Juneteenth serves symbolically, and in reality, as a reference point from which to measure and appreciate the progress and contributions made by African Americans to this society."
"Juneteenth is a day on which honor and respect is paid for the sufferings of slavery. It is a day on which we acknowledge the evils of slavery and its aftermath. On Juneteenth we talk about our history and realize because of it, there will forever be a bond between us."
"On Juneteenth we think about that moment in time when the enslaved in Galveston, Texas received word of their freedom. We imagine the depth of their emotions, their jubilant dance and their fear of the unknown."
"Juneteenth is a day that we commit to each other the needed support as family, friends and co-workers. It is a day we build coalitions that enhance African American economics."
"On Juneteenth we come together young and old to listen, to learn and to refresh the drive to achieve. It is a day where we all take one step closer together – to better utilize the energy wasted on racism. Juneteenth is a day that we pray for peace and liberty for all."
---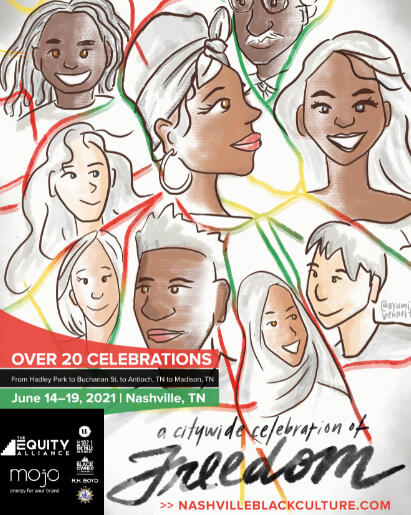 A City-Wide Celebration of Freedom
This year's Juneteenth celebration is a "citywide celebration of freedom." Beginning Monday, June 14, participate in over 20 events that take place from Hadley Park to Buchanan Street, Antioch, and Madison. Events are specialized for both children and adults and include the Music City Freedom Festival at Hadley Park, a Juneteenth block party at the National Museum of African American Music, the Black Murfreesboro Market and more. The events remember June 19, 1865, when slaves in America experienced genuine freedom from their masters. For a complete list of events and times, visit www.nashvilleblackculture.com.
---
"We must not leave the work of emancipation and civil rights unfinished, and on Juneteenth, we honor those who have fought and sacrificed for freedom while recommitting ourselves to continuing their work in our own day."
– Clifton Harris, Urban League of Middle Tennessee president

---
Give Black, Give Back's Juneteenth 2020
Inspiration from Black Philanthropists
Give Black, Give Back's Kia Jarmon and Lisa Swift-Young hosted a Facebook Live in celebration of #Juneteenth. We heard stories from guests Isaac Addae, Eric Brown, Audra Cox, Joy Weiss, and JC Gordon highlighting the Nashville Black community's commitment to giving – both in time and treasures.
We are thankful for our Give Black, Give Back advisory committee Eric Brown, Mr. Ron Corbin, Mrs. Barbara Gray, Brandon Hill, Kia Jarmon, Jennifer Oldham, Lisa Swift-Young, and Antonio Young. Thanks to Audra Cox for leading the Give Black, Give Back initiative for CFMT.
---
Share Your Story
Thank you for taking the time to share your favorite story or earliest memory of giving. We feel it is important to capture these memories to pass along to current and future generations. By doing so, we can display how giving is powerful – both in time and treasures – and can make true change in the world we live in today.
Click Here to Share Your Story