"If you have some power, then your job is to empower somebody else."  -Toni Morrison
The Community Foundation of Middle Tennessee celebrated Black Philanthropy Month on Thursday, August 15 with a gathering at the Nashville Business Incubation Center located in the historic Germantown neighborhood in downtown Nashville.
Black Philanthropy Month's 2019 theme is "Let's Make History" and that we did!  More than 25 African-American philanthropists with established funds at The Community Foundation, along with several African-American CEOs who run nonprofits, friends and Nashville's mayor David Briley, came together to inform, involve, inspire and invest.
Mrs. Lisa Swift Young and her husband Antonio, whose Change We Seek Fund was set up to encourage and inspire others, are not originally from Nashville but desire to collaborate with other philanthropic-minded individuals and nonprofits making a difference in our area's African-American communities. Their vision is to learn of contributions to the city made from trailblazers who had paved the way for some of the successes that "newcomers" to Nashville currently enjoy.
As the Youngs spoke to the group about their family's personal commitment to philanthropy and encouraging their adult children to join them in becoming involved with CFMT, the mood quickly moved to one of inspiration.
Guests continued to be inspired when 19-year-old Kanayo Offodile expressed his gratitude for being the very first recipient of the Brandon Key Scholarship at The Community Foundation. Brandon Key's untimely death resulted in four of his friends, still in their early 20s, determined to raise money and establish a scholarship fund in his memory. The Fund benefits a high school student who embodies the spirit of Brandon in his or her love for serving the community and giving back.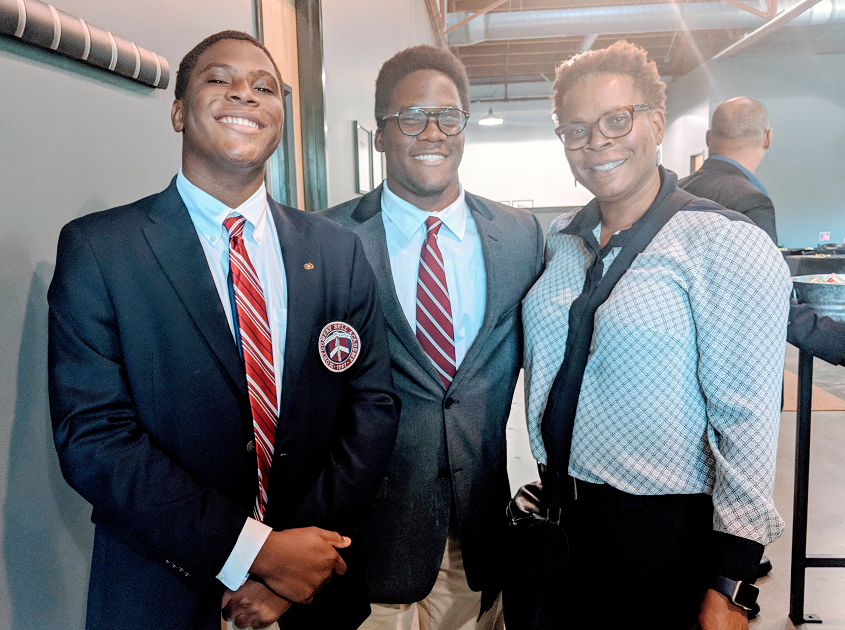 The Brandon Key Scholarship Fund's first recipient, Kanayo Offodile, proudly stands with his younger brother and mother at CFMT's Black Philanthropy Month gathering.
---
Kanayo is a smart, soft spoken, athletic, and humble young man entering Miami University in Oxford, Ohio as a freshman. As his mother and younger brother Chuma listened and watched with pride, Kanayo remarked on what it meant to him to receive this scholarship, as well as his desire to share his "time and talents" with others.
Ellen Lehman, President and CEO of The Community Foundation of Middle Tennessee, was on hand and welcomed the conversations regarding some of the successes and challenges that African-American CEOs and leaders who run nonprofits have experienced in the past and present.
Ellen's encouragement and commitment to assist in efforts to expand on this dialogue with other philanthropists in the near future was exciting news.  Those who attended the reception are motivated to begin a process of "pooling" their resources and talents while investing in addressing critical areas disproportionately affecting African-American communities in Middle Tennessee.
---
About The Community Foundation of Middle Tennessee
The Community Foundation exists to promote and facilitate giving in the 40 counties of Middle Tennessee and beyond. It does this by accepting gifts of any size from anyone at any time and by empowering individuals, families, companies, nonprofits, and communities to respond to needs and opportunities that matter. The Community Foundation works with people who have great hearts, whether or not they have great wealth, to craft solutions that reflect their intentions and goals.