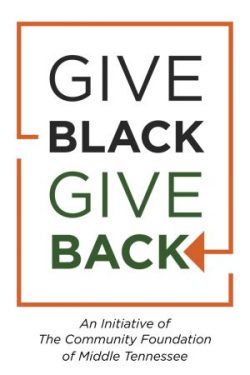 Give Black, Give Back, an initiative of The Community Foundation of Middle Tennessee (CFMT), will celebrate Black Philanthropy Month in a big way this August.
Interviews with next-generation philanthropists, business and nonprofit executives, Fisk Jubilee Singers Director Dr. Paul Kwami, and influential journalists and historians are on tap throughout the month.
Kicking off the initiative's newly launched series of Changemakers Interviews on Monday, Aug. 2 will be a recent conversation with Rosetta Miller-Perry, founder and publisher of The Tennessee Tribune newspaper and a longtime Civil Rights activist and leader.
Interviews will be available for viewing beginning Monday, Aug. 2 at www.cfmt.org/changemakers, with scheduled live interviews available on CFMT's Facebook page.
The Give Black, Give Back initiative was launched following CFMT's inaugural celebration of Black Philanthropy Month in 2019. Black Philanthropy Month has been recognized globally since 2011 upon its creation by Jackie Bouvier Copeland, a San Francisco Bay-area social and environmental justice activist.
The focus of Give Black, Give Back is to support Black-led charitable funds established at CFMT. The initiative is dedicated to fostering collaboration between its fundholders and to establishing new partnerships among Black philanthropists and nonprofits with similar goals and aspirations.
Give Black, Give Back will host of events for Black Philanthropy Month 2021 under the direction of co-founders and co-chairs Kia Jarmon and Lisa Swift-Young and the initiative's coordinator, Audra Cox. This event series includes conversations to encourage Black philanthropy and inspire generational wealth-building within Black communities. (Schedule below.)
About GIve Black, Give Back
---
---
Black Philanthropy Month 2021 Schedule of Events
| Date | BPM 2021 Event Schedule |
| --- | --- |
| Monday, August 2 | Release of Changemakers Interview: Mrs. Rosetta Miller-Perry, founder and publisher of The Tennessee Tribune and a long-time Civil Rights activist and leader |
| Thursday, August 5 | Give Black, Give Back Conversations: Honoring Nashville's Black History with Nashville Historian David Ewing with co-hosts Lisa Swift-Young and Kia Jarmon (Facebook Live) |
| Monday, August 9 | Release of Changemakers Interview: Dwight Lewis, author and former award-winning reporter, columnist and editorial page editor for The Tennessean |
| Thursday, August 12 | Give Black, Give Back Conversations: Honoring Black Philanthropists with Black Philanthropy Month Global Architect, Valaida Fullwood with co-hosts Kia Jarmon and Lisa Swift-Young (Facebook Live) |
| Friday, August 13 | Give Black, Give Back Day as proclaimed by Mayor John Cooper and Metropolitan Government of Nashville and Davidson County |
| Friday, August 13 | Inaugural Give Black, Give Back Changemakers grants presented to four HBCUs, Fisk University (In honor of Fisk Jubilee Singers + Dr. Kwami), Tennessee State University (in honor of Courtney and Ever Grey Hale), American Baptist College (In honor of Dwight Lewis) and Meharry (In honor of Mrs. Rosetta Miller-Perry) |
| Monday, August 16 | Release of Changemakers Interview: Dr. Paul Kwami, Musical Director and Curb-Beaman Chair of the Fisk Jubilee Singers |
| Thursday, August 19 | Give Black, Give Back Conversations: Honoring Self-Care with The Healing Trust's Jennifer Oldham and TRILUNA Wellness Co-CEO's Ashley Brooke James with co-hosts Lisa Swift-Young and Kia Jarmon (Facebook Live) |
| Monday, August 23 | Release of Changemakers Interview: Next Generation Philanthropists Courtney and Ever Grey Hale, founders of Super Money Kids by knowledgeBANK |
| Wednesday, August 25 | Philanthropy Together's The Excellence Of Black Philanthropy: Engaging the Next Generation. Register Here |
| Monday, August 30 | Give Black, Give Back: Black Philanthropy Month Wrap-Up |
| | |