"Nobody expected Bonnaroo to be successful," Ashley Capps, co-founder of Bonnaroo and one of the most respected music promoters in the industry, has said of the long-running music and arts festival held in Manchester, Tennessee.
On an episode of "The Road to Now" — a podcast hosted by Dr. Benjamin Sawyer and Bob Crawford, a founding member of the band The Avett Brothers, Capps talked in encyclopedic depth about music festivals and influences for Bonnaroo.
"MerleFest was always an inspiration," Capps said of the North Carolina-based roots music festival, with an emphasis on "always."
He ticks off New Orleans Jazz and Heritage Festival before stating, rather matter-of-factly, "That was some of the inspiration that enabled us to overcome the conventional wisdom that this was a really stupid idea."
For four days out of the year, traditionally on the second weekend in June, Bonnaroo Music and Arts Festival hosts as many as 70,000 ticket holders and 150 or so music acts. It's held on 700 acres on a former farm on the outskirts of Manchester, a town an hour southeast of Nashville whose population is otherwise just shy of 11,000.
The festival lost a champion in 2020 in Manchester Mayor Lonnie Norman, who died on Oct. 12 due to complications from COVID-19. He was 79.
The festival's evolution in such a small community could have been problematic. But when you start peeling back the colorful layers of Bonnaroo, you see it isn't like most festivals.
---
The festival wants to help create a better planet, one partnership at a time.
"There has always been a charitable component to Bonnaroo,"

said Kelsey Dewald, executive director of the Bonnaroo Works Fund (BWF), which is administered by The Community Foundation of Middle Tennessee, in a recent interview.

"The goals to give back and to inspire that give-back mentality with the audience have been elements since the festival's beginning."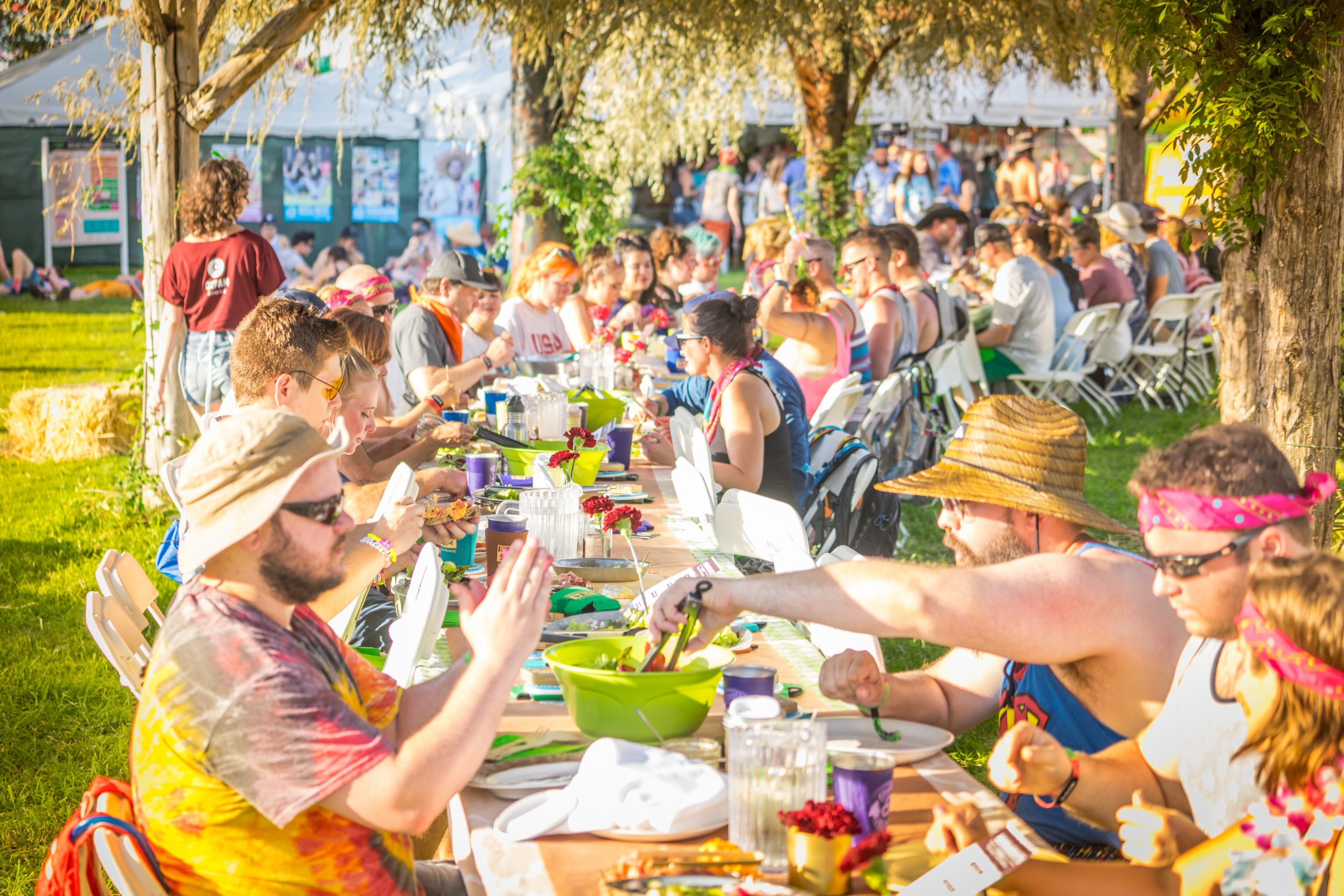 Since its 2002 inception, Bonnaroo and the BWF have awarded more than $7 million in funding to more than 100 nonprofits and organizations. Each is chosen based on the Fund's core values — community, creativity, and positive influence, with the main criteria being arts education.
"We like to invest in local project-based initiatives with long-term potential, Dewald said, "like a kiln for a high school or a specific speaker series or field trips."
The number of grants awarded each year is based on a culmination of ticket sales, an annual silent auction, and other fundraising efforts. The social impact and list of nonprofits the BWF has sponsored remains remarkable.
"We're not just making it about collecting the money and giving the money,

" Dewald said.

"We want to be a true partner with the nonprofits we work with."
Creating a social impact is top priority for the Bonnaroo Works Fund, too, including voter education, encouraging civic duty, and getting people to invest in their communities.
---
Festival officials say they couldn't have done it without the support from Manchester officials and in particular Mayor Lonnie Norman.
"You can only say positive things about Lonnie," said Jeff Cuellar, vice president of AC Entertainment and co-producer of Bonnaroo. "He was a listener — One who could truly empathize with whatever you brought to his attention."
When Bonnaroo showed up on Manchester's doorstep, Mayor Norman could not only see the town's economic benefits, but opportunities for strong public relations.
"Lonnie believed in order to be a good community steward, you had to work together,"

Cuellar said.

"Because when Bonnaroo sells more tickets, employs more people, and is efficient, it shines a light on everyone."
Cuellar recalled the project Norman was most excited about: a joint partnership between Bonnaroo, the city of Manchester and Coffee County, for an ARC (Appalachian Regional Commission) grant to rebuild a good chunk of the waterline that existed within Manchester but also services people throughout the county.
Bonnaroo provided the bulk of the financial gift, and its grounds would benefit greatly.
"There's no need to sugarcoat it," Cuellar recalled, "but it wasn't an opportunity to just benefit us but also the industrial park, local residents, homes, businesses — you name it. And Mayor Norman and [Coffee County] Mayor Gary Cordell were instrumental in making this happen."
The $1 million project was hailed as a massive achievement and won the John S. Wilder Rebuild Tennessee Award. The partnership was the first of its kind for the state and a fantastic accomplishment of what Norman most championed: working together for the good of the people.
The mayor also loved presenting the guitar-shaped key to his city to each year's Bonnaroo headliner.
"That was the hardest part of the year," Dewald said of the festival's eventual cancellation. "Not knowing if we were doing the festival and trying to conceptualize something virtual—our ideas changed so many times."
In the end, Bonnaroo held a free three-night live broadcast on their YouTube Channel called Virtual ROO-ALITY, and streamed new live performances along with archived sets. The Bonnaroo Works Fund was able to secure donations, but nothing like usual.
"It was significantly different this year," Dewald said. "You try and pivot the best you can, but paths and strategies kept shifting. It was an interesting challenge."
In lieu of flowers at Norman's funeral, he had stipulated that donations to be made to the Bonnaroo Works Fund.
"I think, with every bone in his body, Lonnie attempted everything he could to help and help all people," Cuellar said, "which truly is a testament of the legacy that he is leaving behind."
Click Here to Learn More About the Bonnaroo Works Fund
Click Here for 2023 Bonnaroo Works Fund Application
---