---
August has become a special month at The Community Foundation of Middle Tennessee.
After all, the organization's Give Black, Give Back initiative launched following CFMT's inaugural celebration of Black Philanthropy Month in 2019.
Black Philanthropy Month was founded in 2011 by Dr. Jackie Bouvier Copeland, a San Francisco Bay-area social and environmental justice activist,and is now globally recognized. Black Philanthropy Month's mission is to elevate African-descent giving and illuminate the transformative impact of generosity in Black communities.
This year, philanthropists from across the world will focus on its theme titled "Fierce Urgency of Now: From Dream to Action," and highlight new strategies to advance lasting funding and racial equity in Black communities worldwide.
The theme "Fierce Urgency of Now: From Dream to Action," is inspired by a quote from the Rev. Dr. Martin Luther King Jr.:
"We are now faced with the fact that tomorrow is today. We are confronted with the fierce urgency of now. In this unfolding conundrum of life and history, there 'is' such a thing as being too late. This is no time for apathy or complacency. This is a time for vigorous and positive action."
---
---
Give Black, Give Back's Recognition of Black Philanthropy Month
Each Thursday this August, Give Black, Give Back has planned a weekly series of virtual panel discussions for Black Philanthropy Month 2022 under the direction of the initiative's philanthropic volunteer co-founders and co-chairs Kia Jarmon and Lisa Swift-Young, and Audra Cox, CFMT's Development Manager and the initiative's coordinator.
This event series includes conversations to:
Encourage Black philanthropy by amplifying funds administered by CFMT.
Inspire generational wealth-building within Black communities and share best-practices with organizations statewide and in other areas of the country.
Hear from those in successful collaborative partnerships with individuals and corporations who are seriously engaging in Diversity, Equity and Inclusion to support communities.
Give Black, Give Back also will be sharing a brand new Changemakers interview and revisiting several interviews from the series published over the past year alongside additional stories of Black philanthropy.
All scheduled events will be available for viewing on CFMT's Facebook page and Youtube Channel.
Date
BPM 2022 Event Schedule
Thursday, August 4
A conversation with Give Black, Give Back Co-Chairs Kia Jarmon and Lisa-Swift Young on "A Kick-Off Conversation for Black Philanthropy Month."
Thursday, August 11
"Establishing and Maintaining the Black Family Legacy."
This discussion will include real estate investing, children's retirement accounts, and how to set up for family success.
Thursday, August 18
"How to Increase Your Organizational Giving - Corporate and Social Responsibility."
Thursday, August 25
"Black Women Lead Giving: Black Women in Philanthropy Across the State and Country," and how you can tap in.
Wednesday, August 31
Black Philanthropy Month one-hour wrap-up with Give Black, Give Back Kia Jarmon and a few "Surprise Announcements."
---
About Give Black, Give Back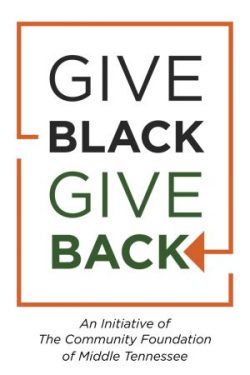 Black leadership in philanthropy is key to engaging in authentic and informed grantmaking in communities of color.
Give Black, Give Back recognizes donors and the variety of ways they give — not only large gifts, but also the impactful volumes of small gifts and collective giving that Black families, faith-based institutions and civic organizations provide.
The initiative works to engage and encourage Black philanthropists to continue enhancing the vibrancy of our community by:
Serving as a resource to amplify the Black-led funds at CFMT;
Helping to foster new partnerships among Black philanthropists as well as Middle Tennessee's nonprofit organizations with similar aspirations for serving the community;
Providing access and education to the community at-large to help close the racial wealth gap.
The initiative's inaugural Black Philanthropy Month celebration was marked with a reception in a Germantown office space, with donors, supporters, staff and guest speakers in attendance.
Learn More & Support Give Black, Give Back
---