Fisk Jubilee Singers, circa 1870s. In the photo from left: Minnie Tate, Greene Evans, Isaac Dickerson, Jennie Jackson, Maggie Porter, Ella Sheppard, Thomas Rutling, Benjamin Holmes, and Eliza Walker. Source/Library of Congress 
---
How a group of students went on the road to save their university from financial ruin, still tour to this day
Nashville first became known internationally as Music City not for its country music, but because of the Fisk Jubilee Singers.
The Jubilee Singers have headlined halls and auditoriums, performing for queens and kings and heads of state, across the country and around the globe for nearly 150 years.
Without musical accompaniment, the a cappella troupe has sung as if the very survivability of Fisk University depended upon them.
Fisk opened in North Nashville shortly after the Civil War in 1866 as the first American university to offer a liberal arts education "to young men and women irrespective of color," according to the Jubilee Singers website.
Just five years later, Fisk was nearly out of money.
George L. White, Fisk treasurer and then musical director, then created a nine-member choral ensemble of students and took them on tour to raise money for the university — $20,000 to be exact.
The student performers — five women and four men between the ages of 14 and 25 — left campus with White on Oct. 6, 1871, first following the remnants of the Underground Railroad to perform for mainly white audiences in cities and small towns in the Midwest and New England.
The Fisk Jubilee Singers toured for several months at a stretch, giving hundreds performances, then traveled overseas on an extended tour of Britain, Scotland, and Ireland.
They were men and women on a mission.
At the time, Fisk tuition cost between $9 and $12 a year (from $190 to $250 today), which many students couldn't afford to pay. Teachers were rarely paid on time. The donated Union Army hospital barracks that served as the school's temporary buildings would be freezing during the winters and sweltering during warmer months.
Basic sustenance was an issue for both students and faculty alike.
"Our privations and limited food began to tell on the vitality of the students, and some of our best pupils were sacrificed," Ella Sheppard, one of the original Jubilee Singers, said in a 1911 historical sketch of the Jubilee Singers, published in a Fisk University newsletter. "There was no money even for food, much less for repairs. Many a time a special prayer was offered for the next meal."
On tour, the Jubilee Singers' repertoire of spirituals — a genre originating from the African American oral tradition of combining Christian values while describing the hardships of slavery — took a while to catch on with audiences used to being entertained by the popular minstrel shows of the time.
Eventually, though, standing ovations and critical praise from reviewers became the norm.
"I do not know when anything has so moved me as did the plaintive melodies of the Jubilee Singers," said renowned author Mark Twain, a Southerner whose father owned slaves.
Spirits drained and voices ragged, the Jubilee Singers gradually earned enough money to cover expenses to return to Fisk before going back out on the road.
Accomplishments were many.
By 1872 they had sung for President Ulysses S. Grant in the White House.
By 1873 the group had grown to 11 members and toured Europe for the first time. Funds raised that year were used to construct the school's first permanent building, Jubilee Hall.
Housed in the Victorian Gothic building, designed a National Historic Landmark in 1975, is a floor-to-ceiling portrait of the original Jubilee Singers, commissioned by Queen Victoria during the 1873 tour as a gift from England to Fisk.
By 1878, the Jubilee Singers had raised more than $150,000 for Fisk University — more than $3 million in today's dollars — in three grueling tours over the course of seven years.
The Fisk Jubilee Singers remain as a vibrant part of the university to this day.
In 2002, the Library of Congress honored their 1909 recording of "Swing Low, Sweet Chariot" by adding it in the United States National Recording Registry.
In 2008, they were awarded the National Medal of Arts.
Fisk, with 885 students enrolled in 2019-20 — up about 200 from the previous year — continues to struggle financially. And yet the historically Black university broke its own year-old fundraising record in the 2018-19 school year by almost $3 million, bringing in more than $10.7 million, The Tennessean reported.
Partnerships with corporations such as HCA Healthcare and Google have helped fuel the fundraising resurgence.
For instance, in August 2019 HCA Healthcare donated $1 million to the HCA Healthcare Scholars at Fisk University to provide scholarship and internship opportunities over the next four years.
Google is a prime backer of the Fisk University Data Science program, one of the university's fastest-growing programs. It's the first dedicated undergraduate data science program at a Historically Black College or University as well as in the state of Tennessee.
"We started looking at the economic growth, and today's demographics will look different than tomorrow's," Jens Frederiksen, Vice President for Individual Advancement at Fisk, told The Tennessean. "Organizations want to look for highly talented minorities and people of color that are the next generation of leadership.
"With some of them moving to Nashville and some of the giants that exist here already, there was a massive opportunity."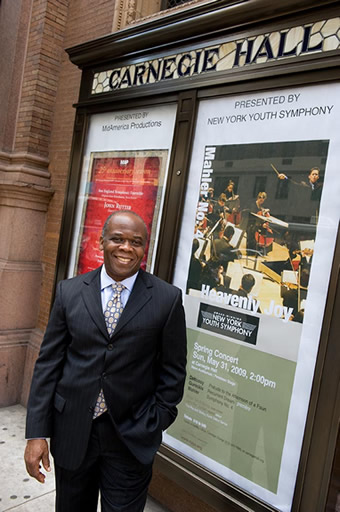 The Jubilee Singers remain a key part of the school's fundraising efforts, led by longtime director Paul Kwami. Earlier this summer, they released "Celebrating Fisk! (The 150th Anniversary)", recorded live from the stage of the Ryman Auditorium with guest artists that included Cece Winans, Keb' Mo', and Ruby Amanfu.
A native of Ghana, West Africa, Kwami is musical director of the Fisk Jubilee Singers and the Mike Curb Jubilee Singers Endowed Chair at Fisk. He emigrated to the United States in 1983 as a student at Fisk and promptly joined the Fisk Jubilee Singers. With a master's of music from Western Michigan University and a Doctor of Musical Arts degree in conducting from the American Conservatory of Music, he has been the Fisk Jubilee Singer's musical director since 1994, the first African to direct the famed chorus.
---
Kwami recently answered questions from The Community Foundation:
CFMT: From your perspective as the longtime director of the Jubilee Singers, how important have they been to Nashville and Fisk University through their long and historically rich history?
PK: Nashville is a city where a large variety of music exists. Among them is the genre — Negro spirituals. This is because Nashville is the home of the Fisk Jubilee Singers, the ensemble that introduced the music to the world. These songs were arranged and, therefore, transformed into choral art forms for concert performances.
In a way, the Fisk Jubilee Singers made Nashville the home of the choral form of Negro spirituals. The ensemble continues to perform these songs in Nashville and around the world, thus preserving them. Collaborations with Nashville's guest artists also leads to development of great relationships.
CFMT: In particular, how have the Jubilee Singers contributed to fundraising at Fisk and for philanthropy in general?
PK: The Fisk Jubilee Singers help in developing relationships with donors in Nashville and around the country, through performances.
CFMT: What special challenges do the Jubilee Singers face in these extraordinary times of pandemic and economic turmoil?
PK: The current pandemic has resulted in cancellations and rescheduling of fall concerts. For the first time as musical director of the ensemble, I had to conduct auditions virtually. Rehearsals will be conducted in a larger space for shorter periods of time, and there will also be small group rehearsals, which will help with social distancing.
CFMT: What will it take for the Jubilee Singers — and Fisk — to survive and thrive for generations to come?
PK: During their first tour, the Negro spirituals served as a source of encouragement, hope, faith, love and supernatural strength. These songs helped them to succeed.
These songs will continue to inspire and move the Fisk Jubilee Singers and Fisk University. A graduate of Fisk University, Undine Smith Moore arranged the spiritual, "We Shall Walk Through the Valley." A line in this spiritual states, "If Jesus himself shall be our leader, we shall walk through the valley in peace." Fisk will continue to thrive because of her strong leadership.
---
---
Fisk Jubilee Singers' Fund For The Future | Established 2007
Bill Friskics-Warren wrote, "No single group has given African-American spirituals greater exposure in this country or around the world than the Jubilee Singers of Fisk University." The original Jubilee Singers began singing "slave songs" in 1871, breaking down racial barriers and preserving this unique American musical tradition known today as Negro spirituals. Today The Fisk Jubilee Singers continue sharing this rich cultural tradition globally.
As musical director Paul Kwami noted on the occasion of their induction in the first class of those honored on Music City's Walk of Fame, "Historically, through their world travels, the Singers helped put Nashville on the world map … this becomes another great source of encouragement to them … knowing … that there are people in the world who realize what their position means, not just to Fisk, but to Nashville." This Fund is designated to support this community treasure in perpetuity.
Make A Gift
---
Remembering and honoring Minnie Tate, one of the original Fisk Jubilee Singers
By Stephanie Harris
I am so grateful, and proud, of my history with Fisk University.
I am a sixth-generation Fiskite on my paternal side and a third-generation on my mother's. Over 50 members of our family, both paternal and maternal, have attended this illustrious institution.
Minnie Tate, one of the original Fisk Jubilee Singers, is my six-times great-aunt. She was 16 years of age when she traveled the world, raising money to save Fisk.
Conditions for traveling Blacks, drafty dwellings, inferior food, railway cars, etc., were so bad at the time that she had lost her beautiful singing voice by the time she returned to Fisk. But, the mission was accomplished.
Also in my family ties, there is a Harris House on the Fisk campus, called the Music Annex, named after its owner, Richard Harris, who also a paternal great-uncle.
Fisk's motto is, "Ever on the Altar," the meaning of which is multifaceted. As Fiskites, it is expected that we will be in positions of leadership. The "Altar" intimates that this position of leadership will actualize itself in synchronized, selfless position of humanity and Godliness. Alternately, we recognize that we are always in view and expected to comport ourselves accordingly.
We are all familiar with the saying, "To whom much is given, much is expected." Both of my grandfathers told me, independently, "To whom much is given, much is REQUIRED."  Paraphrasing here, "[Expectation leaves a window open.  You/We do not have a choice and MUST do better, and we MUST bring others along]."
There is a long history, in my parents' generation of affluent Black families, of "taking in" — as a live-in — someone of less fortunate means to assist with childcare and household duties, while having room and board and tuition fully covered by the household.
These caregivers were treated as members of the family, not as servants. Some of these family friends have shaped me, and I am forever grateful.
You should know there is a "Fisk 100," which is a list of 100 books that all Fiskites should read. There are currently three iterations, and I am working on a committee to compile the fourth.
Fisk University graduate Stephanie Harris is Section 3 Work Readiness Coordinator and Community Engagement Manager Metropolitan Development and Housing Agency (MDHA).