When it comes to service projects, many of us have the desire to make a difference in our community.
But what happens when you don't feel safe joining others who, for example, may already be working with the homeless population … or feeding those who are hungry … or welcoming refugees from around the world to their new homes?
In 2015 a brutal shooting of three Muslim youth in Chapel Hill, North Carolina, revealed yet another instance of tragedy for the United States. As in other such tragedies, those with brothers or sisters who have been targeted remain burdened with the fear that they could easily become victims of violence and hate crimes, at any moment.
Abdou Kattih, a Murfreesboro resident, longtime pharmacist and most importantly father of five, felt in his heart it was time — time to create an environment for the area's Muslim youth population and to put to use what was already living inside of them: the knowledge, resources and creativity to carry the responsibility of their faith and serve the community.
For that to happen, though, Abdou knew this next generation needed to feel empowered to do so, not frightened. His vision for the organization, Murfreesboro Muslim Youth, has taken shape over the past several years. It has led to a generation of young Muslims who are conscious of their duty to both Muslim and non-Muslim society … the human family.
---
---
What they have accomplished is nothing short of incredible.
Once the group identified community needs where their youth could lend a helpful hand, the all volunteer-run organization set out to facilitate a number of projects to lift up Rutherford County and Murfreesboro, the county seat. Instead of trying to reinvent the wheel in serving the community, Abdou engaged existing local nonprofits that were providing successful programs.
"Establishing partnerships with these organizations enabled us to build relationships that are genuine," Abdou says. "There is nothing more empowering than you and somebody sweating in service together."
Take, for instance, the Christian-based nonprofit Murfreesboro Cold Patrol, previously led by Jason Bennett. The Cold Patrol began a year earlier with a mission of hands-on outreach to the homeless community by providing warm shelter and food during the coldest months of the year. As Abdou's and Jason's paths crossed, they realized their groups could be stronger working together rather than apart.
One such combined effort is a voucher program for those using the Cold Patrol's services, rather than seeking food each time there is a need. Partial funding for the 2018 voucher program was provided by The Community Foundation's annual grant cycle, enabling Murfreesboro Muslim Youth volunteers to distribute 900 food vouchers to 400 homeless individuals.
The vouchers are redeemed for hot meals at a small local business and provide recipients with a protein, vegetable, carbohydrate, and snack. And this is just a small percentage of the meals provided by Murfreesboro Muslim Youth: Overall, the group distributed 6,000 meals in 2018.
---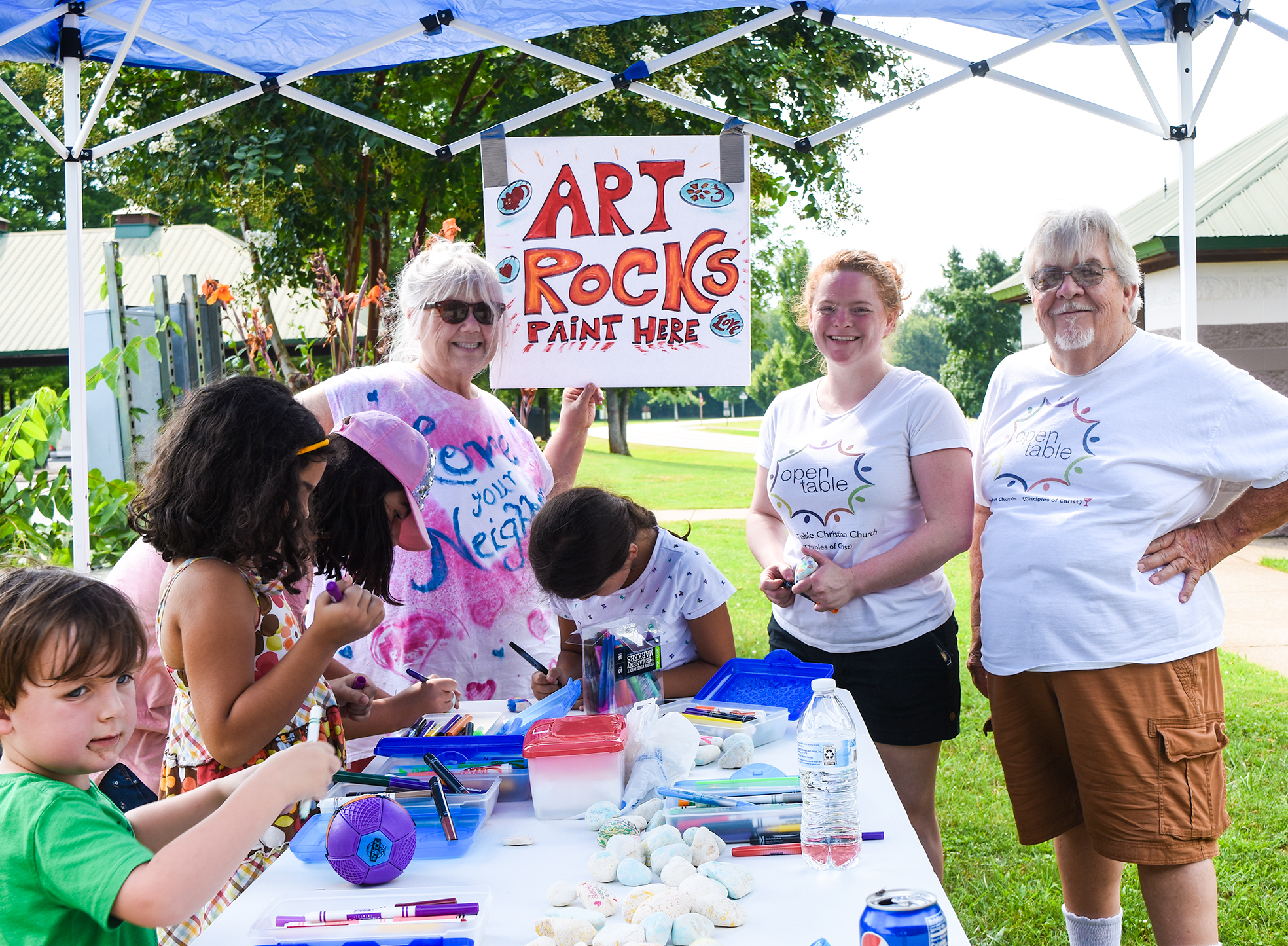 ---
Additional collaborative programs include interfaith work such as the Love Your Neighbor community potluck picnic, held three times a year to build bridges between people of different faiths and backgrounds in order to help grow peace in Rutherford County.
What began as a handful of people showing up for the picnic has since blossomed into more than 1,500 residents breaking bread — and tension — by learning from each other on the square in downtown Murfreesboro. The diverse gathering attracts members of the LGBTQ, Muslim, Christian, atheist, and Jewish communities.
"We were surprised how quickly the attendance for the Love Your Neighbor picnic grew. There was no agenda, no speeches, no flyers … it just grew organically," Abdou says. "Why? Because positivity spreads, and our kids who once feared going out in public are now receiving hugs in the streets by strangers."
Nearly 200 teenagers currently set the stage for the services provided by Murfreesboro Muslim Youth. When a need from a partner organization is shared on their message board, one or two volunteers take the lead on the project, ensuring its progress from beginning to end. They are charged with identifying the supplies needed, the costs associated, the recruitment of volunteers, and facilitating the project through completion.
The dedicated group has never had a project go unfunded. Projects often are fully realized within hours of announcing goals.
---
Murfreesboro Muslim Youth volunteers are impacting Rutherford County and beyond with programs such as:
Roots for Refugees. A local endeavor that welcomes new refugee families in Murfreesboro by helping supplement needs such as household furnishings and providing guidance on navigating the community.
 A Seat At The Table. A small group gathers for a meal and a personal experience — with those around the table sharing stories and asking questions, thus helping to break boundaries and form relationships.
 30 Days of Giving. Youth are encouraged to give back daily to the local community during Ramadan by means of preparing homeless care kits, canned food collection, and the like.
 Back-To-School Drives. Volunteers collect back-to-school supplies to help underprivileged children in local schools. Since 2015, the drives have provided more than 4,000 back-to-school items. While Murfreesboro Muslim Youth's main focus is still our area's youth — to empower, grow, make a difference, and foster leadership — more positive effects are happening daily.
---
A community once known nationwide as divided is now working together.
"It's not about me, it's not about you," Abdou shared with The Daily News Journal after being selected as the Murfreesboro newspaper's Person of the Year in 2016. "It doesn't have to be a Muslim thing, it doesn't have to be a Jewish thing, it doesn't have to be Christian thing.
"It has to be about us, as a community; we can all come together and do good."
Learn More