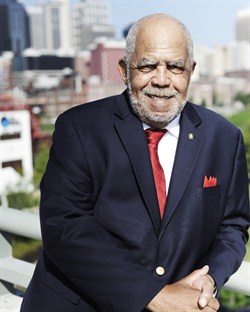 Make a Gift: Bridge to Equality Fund
The Community Foundation of Middle Tennessee staff is deeply saddened by the loss of our former board chair Francis S. Guess.
No one who knew him can imagine what Nashville would have been like without Francis S. Guess. The child raised in public housing became the man whose fingerprints can be found on almost every major civic effort in our community.
The child raised in the segregated south propelled the city by championing equal access for minority business people to civic project contracts.
The child who grew up to fight for his country in Vietnam became a philanthropist, as well as a public servant, businessman, civic leader, and humanitarian.
                                                                    . . .
A Nashville-native, Francis S. Guess began making his mark at a young age. He served in Military Intelligence with the U.S. Army during the Vietnam conflict. He went on to earn a bachelor's degree in political science from Tennessee State University and a master's of business administration from Vanderbilt University's Owen Graduate School of Management. Later, he completed the Senior Executives in State and Local Government program at Harvard University.
Drawing on lessons from each, he became an ardent and effective supporter of equal opportunity through public and private positions.
In the public sector, Guess served 30 years as a member of the Tennessee Commission on Human Rights. Nationally, he was appointed as a member of the U.S. Commission on Civil Rights by President Ronald Reagan.
Guess's work in the private sector extended his advocacy for open opportunities. He served as executive vice president of The Danner Company, a management and investment firm, and remained the executive director of the Danner Foundation, a family foundation that has contributed more than $10 million, largely to Tennessee programs addressing education and health. He also owned and operated Helicopter Corporation of America (HELICORP).
His volunteer commitments included board and commission positions with the National Coalition of Human Rights, American Institute for Managing Diversity, Nashville Committee on Foreign Relations, Tennessee Minority Purchasing Council, Tennessee Advisory Committee of the U.S. Small Business Administration, and, among others, the Governor's Monitoring Committee.
Most recently, Guess served on the boards of the Tennessee Supreme Court Access to Justice Commission; Board of Professional Responsibility of the Supreme Court of Tennessee; Nashville Minority Business Development Fund; Country Music Hall of Fame and Museum Board of Officers and Directors; Metro Convention Center Authority; and the Nashville City Club. He was also a member of American Legion Post 82, Inglewood and a life member of the NAACP.
As a community we honor his memory with gratitude for his many accomplishments. And to ensure that his efforts continue, The Francis S. Guess Bridge to Equality Fund has been created to help provide equal access to the American Dream, in perpetuity.