The Community Foundation of Middle Tennessee proudly presented philanthropist, civic leader and regional visionary Jack B. Turner with the 2016 Joe Kraft Humanitarian Award at its 23rd annual luncheon held today at the Music City Center's Davidson Room.
A Clarksville businessman and longtime champion of nearby Fort Campbell's Army base and its famed 101st Airborne Division, Turner has dedicated himself to a broad range of charitable causes throughout Middle Tennessee and beyond. He has done so the hard way: by constantly working to strengthen civic institutions, individually and collectively, and by persistently creating constructive conversation.
A crowd of more than 500 people – including two retired four-star generals and other top military brass, a U.S. Senator, a U.S. Congressman, assorted mayors, and Nashville's police chief – gathered in Turner's honor.
Retired four-star Gen. John F. Campbell, who once commanded the entire U.S. Armed Forces in Afghanistan, said he first met Jack Turner shortly after taking over command of the 101st Airborne in 2009.
"Jack is an exceptionally unique patriotic influence," said Campbell of Turner, who serves as Civilian Aide to the Secretary of the Army (CASA). "Jack gives of himself tirelessly.
"The lesson I've really learned from Jack," the general continued, "is that public service and leadership make a difference."
The Joe Kraft Humanitarian Award Fund continues the memory of Joe Kraft, who made Middle Tennessee a better place to live through his dedication to community, home and hearth, and individuals in need.
Ellen Lehman, The Community Foundation of Middle Tennessee's president and founder, said Turner – now a longtime board member — was involved from the organization's start 25 years ago.
"In April of 1991, we had almost hit our [fundraising] goal, so we did what everyone else does: We had a meeting in the HCA Auditorium … and everyone invited their friends," she said. "That day – and I remember it like it was yesterday – Jack Turner, whom I had not yet met, walked up to a couple of us, thanks us for what we were doing and pledged $50,000 as a an initial gift to the concept. …
"What Jack could not know was that that gift got us over the $1.5 million goal we'd set for ourselves."
U.S. Sen. Bob Corker (R-Tenn.), who heads the Senate's Foreign Relations Committee, opened his remarks by saying: "What an event to be able to attend in the midst of such a divisive, acrimonious and distressful election. … it's like a balm."
The senator went on to reference Turner's philanthropic work, his dedication to the military and his commitment to regionalism with groups such as Leadership Middle Tennessee and Leadership Clarksville.
"There is not a county in our country that is more patriotic than Montgomery County," Corker said, "and there is no one more responsible for that than Jack Turner."
The senator concluded, "Jack, you're the kind of person every community wants to have, and that every successful community has."
Singer-songwriter and Turner's longtime friend Lee Greenwood accompanied himself on piano while performing two songs: closing with his patriotic 1983 anthem "God Bless the U.S.A," and opening with Dave Loggins' "Please Come to Boston" – lingering on and slightly altering the latter's lyric of, "I'm the No. 1 fan of the man here in Tennessee."
In accepting the Joe Kraft Humanitarian Award, Turner dedicated it to his late father, Ajax Turner, who founded the family's beer and beverage distributorship in 1961 and which still carries his name.
"He never accepted an award like this, because most of the people in the state didn't know him. He was always in the shadows," Turner said. "But his clients knew him and appreciated him. And he taught us that what was important in life was to be nice to everybody and to be friends with everybody.
"And we should always do our best and whatever we do," he said, "because you never know who's measuring you for a bigger task."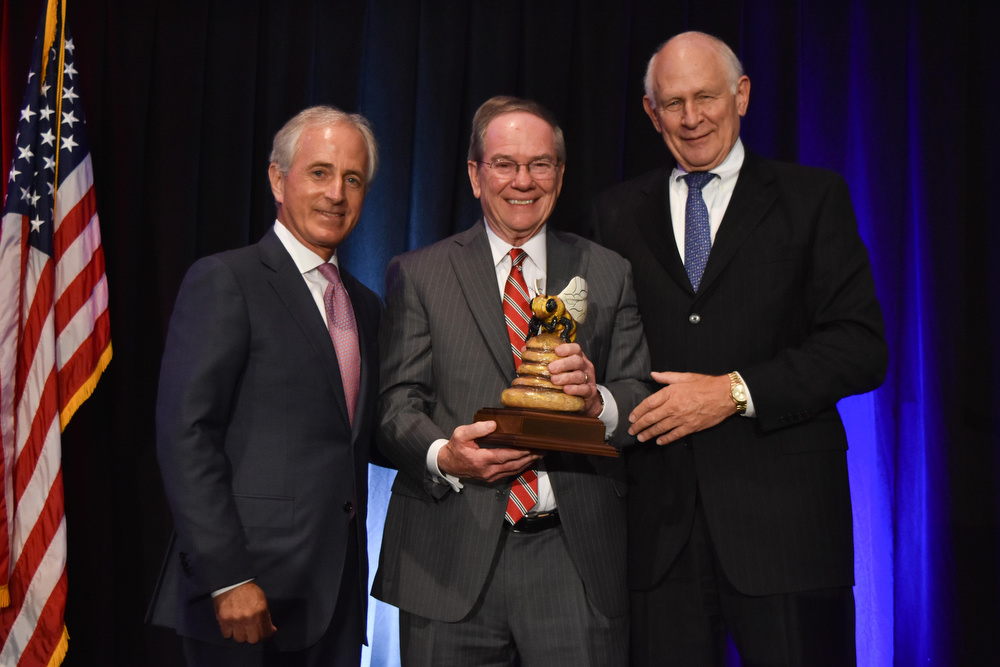 Photos by Dipti Vaidya
---
Jack B. Turner
A Clarksville native, Jack B. Turner's commitment to community service has extended from Austin Peay State University, near where he grew up, to the U.S. Army's famed 101st Airborne Division in nearby Fort Campbell, to cities and counties across Middle Tennessee. His leadership has fostered the creation of the Ajax Turner Senior Citizens Center, the Fort Campbell Historical Foundation, Leadership Clarksville, and Leadership Middle Tennessee, to name just a few.
A key figure in the creation of The Community Foundation of Middle Tennessee and a nationally recognized estate planner, he has helped scores of others find their own singular ability to make charitable gifts that matter to them and to others. His authenticity and acumen have made Jack B. Turner & Associates a trusted resource for generations of Tennesseans and a blessing to the many charitable recipients of his clients' generosity. His exceptional advocacy earned him membership in the Presidencies of the Million Dollar Round Table and the Association for Advanced Life Underwriting.
---
About Joe Kraft and The Joe Kraft Humanitarian Award Fund
Joe Kraft, whose parents were Russian immigrants, was a Davidson County native and graduate of Vanderbilt University. Prior to receiving his degree, Kraft put his athletic scholarship on hold to enlist in the Army Air Corps after the attack on Pearl Harbor. During the war, Kraft flew 31 missions over Italy, Germany and Czechoslovakia as a navigator on a B-17 bomber. He graduated from Vanderbilt in 1948, and received a law degree from what is now Nashville School of Law in 1958. Kraft then founded one of Nashville's largest certified public accounting firms, Kraft Bros., Esstman, Patton & Harrell.
The Joe Kraft Humanitarian Award Fund continues the memory of Joe Kraft, who made Middle Tennessee a better place to live through his dedication to community, home and hearth, and individuals in need. The committee who chooses the recipient is particularly interested in nominations of community leaders who, like Joe, sometimes function behind the scenes. The person(s) named as the recipient of this annual award receives the opportunity to recommend that grants from this Fund be distributed to charities in which he or she believes.
Past honorees include Amy Grant and Vince Gill, John Seigenthaler, Francis S. Guess, Clayton McWhorter, Aubrey Harwell, Jayme and McDonald Williams, Monroe J. Carell Jr., Pauline Gore, Martha Ingram, Karl Dean, Jim Haslam II, Steve and Cal Turner Jr., Phil Bredesen and Andrea Conte, and Chet Atkins and Owen Bradley, among others.
---
ABOUT THE COMMUNITY FOUNDATION OF MIDDLE TENNESSEE
The Community Foundation of Middle Tennessee exists to promote and facilitate giving in the 40 counties of Middle Tennessee and beyond. It does this by accepting gifts of any size from anyone at any time and by empowering individuals, families, companies, nonprofits, and communities to respond to needs and opportunities that matter. The Community Foundation works with people who have great hearts, whether or not they have great wealth, to craft solutions that reflect their intentions and goals. For more information, call 615-321-4939 or visit www.cfmt.org.  |  

For inquiries, please contact Pat Embry at 615-321-4939 Ext. 114.
---
Give to this Fund