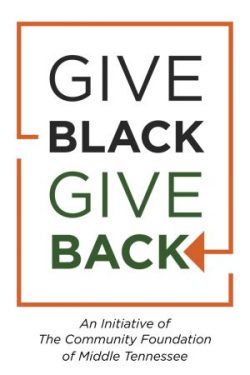 Black households tend to give more of their discretionary income to charitable causes than other segments of society — as much as 25 percent more — according to the book "African American Psychology: From Africa to America" by Faye Z. Belgrave and Kevin W. Allison (Fourth Edition, 2019).
Black leadership in philanthropy is key to engaging in authentic and informed grantmaking in communities of color.
Give Black, Give Back recognizes donors and the variety of ways they give — not only large gifts, but also the impactful volumes of small gifts and collective giving that Black families, faith-based institutions and civic organizations provide.
It is our responsibility to engage and encourage Black philanthropists to continue enhancing the vibrancy of our community.
We do this by:
Serving as a resource to amplify the Black-led funds at CFMT;
Helping to foster new partnerships among Black philanthropists as well as Middle Tennessee's nonprofit organizations with similar aspirations for serving the community;
Providing access and education to the community at-large to help close the racial wealth gap.
Support Give Black, Give Back
---
---
Black-Led Funds at CFMT to Support
Fund Name
Fund Focus

Description
Robert Sr. and Mary Churchwell Scholarship Fund
Scholarship
Robert Sr. and Mary Churchwell Scholarship Fund's mission is to continue to educate students in the Middle Tennessee area.
The Dr. Jayme Coleman Williams and Dr. McDonald Williams Designated Fund
Seminary
The Dr. Jayme Coleman Williams and Dr. McDonald Williams Designated Fund benefits Wilberforce University and Payne Theological Seminary.
Brandon Key Scholarship Fund
Scholarship
The Brandon Key Scholarship Fund was established in memory of a young man best known for his commitment to his community, volunteering for causes that were most important to him, and interest in human and civil rights. 
The Enoch Fuzz Legacy Fund
Education
The Enoch Fuzz Legacy Fund is dedicated to all students and student athletes at Tennessee State University with the belief that solid, honestly run athletic programs managed with integrity and skill are an integral part of the educational experience of a university whether by participation or by observation.
Change We Seek Fund
Community Enrichment
Change We Seek offers grants to nonprofits assisting underserved urban communities. Its mission is to support programs that give these communities the means to be in control of their own economic destiny.
Virgil J. Maupin Memorial Advised Fund
Memorial
A passionate and idealistic young man, when Virgil J. Maupin died he was in the process of establishing a nonprofit organization, Dreams4Youth, to help disadvantaged youth. His hope was to enhance the activities of groups like the YMCA or 100 Black Men by supplementing their programs.
The Tia Barbour-Hale OGOT Legacy Fund
Human Services
The Tia Barbour-Hale OGOT Legacy Fund supports the work of occupational therapists serving special education students in Metro Nashville Public Schools.
The Thirteenth Episcopal District AME Church Endowment Fund

Agency Support
The Tennessee Annual Conference AME Church Endowment Fund II

Agency Support
The Tennessee Annual Conference AME Church Endowment Fund I

Agency Support
The Primm-Simmons Christian Education Endowment Fund

Agency Support
The Linda P. Hare Scholarship Fund
Scholarship
This Fund was established in memory of Dr. Linda P. Hare, who contributed significantly to efforts to increase the diversity and support of underrepresented students at both the Vanderbilt University School of Medicine and Meharry Medical College.
The Jacob and Joy Charitable Fund
Food Security
The Jacob and Joy Charitable Fund provide grants to nonprofits and social entrepreneurs for innovative pilot projects that address hunger, food insecurity, food deserts, community gardens, health, and nutrition.
The Gloria & Darrell Freeman Fund
Donor-Advised
Darrell Freeman is known for his intellect, energy and creativity. In addition, it is his hard work that has allowed him to accomplish so much. The Community Foundation is honored to be able to play a part in the Freeman family's good works.
The Francis S. Guess Bridge to Equality
Community Enrichment
The Francis S. Guess Bridge to Equality Fund aims to enhance dialogue, align resources and build strategic partnerships by convening individuals, nonprofits, governmental agencies, for profits, and the religious community to spur innovation which will lead to equality across Nashville and Middle Tennessee.
The Dr. Diane Greer Walker Memorial Scholarship Fund
Scholarship
The Dr. Diane Greer Walker Memorial Scholarship Fund benefits African American dental students attending Meharry Medical College.
The Dedication, Service and Thanks Scholarship Fund
Scholarship
Chartered March 13, 1926, the Alpha Beta Chapter of Delta Sigma Theta Sorority, Inc. was established at Fisk University. To carry on the outstanding legacy of this sorority, the Dedication, Service, and Thanks Scholarship was established to benefit achieving Fisk University students. 
The College Trust, Inc. Agency Endowment Fund
Agency Support
In 1983, Marcel Kellar, Kelly Miller Smith, Andrew White, John Corry and Norman Reed set up The College Trust to invest in the futures of the local historically African-American Colleges and Universities and the students who attend them. 
The Bridge Resource Partnership Fund
Community Enrichment
The Nashe Family Fund was established to support organizations aligning with the family's personal life experiences as entrepreneurs and their work in delivering educational resources to the prison system
Rep. John Lewis Way Committee Scholarship Fund
Scholarship
Recover Health Fund

Health
Recover Health was founded to eliminate gaps in
healthcare that lead to health disparities. Its charitable fund will provide philanthropic support with the same philosophy by addressing disparities in many areas across the community.
Pearl Creswell Fund for the Alfred Stieglitz Collection at Fisk University
Arts
Pearl Creswell, the first curator of the Stieglitz Collection at Fisk University, is now the inspiration for an endowed, designated fund to benefit, in perpetuity, the display and care of the Collection at the Carl Van Vechten Gallery where it is presently housed. The Fund was established in an effort to ensure the placement and annual upkeep of the art will not cause a continued financial burden to the University.
National Museum of African American Music Endowment Fund
Agency Support
Recognizing the need for long-term financial sustainability, the National Museum of African American Music Endowment Fund will secure future acquisitions, collection care, temporary exhibitions, educational programs and general operations.
Nashville Unites Fund
Community Enrichment
Nashville Unites is an idea conceived by Bishop Joseph Walker and is an effort to assure Nashville is prepared to respond to some of the racial, socio-economic and neighborhood issues that have affected other cities recently by emphasizing civic responsibility, dialogue and participation. 
Nashe Family Advised Fund
Second Chances
My Brother's Keeper Nashville Fund

Community Enrichment
My Brother's Keeper Nashville believes that by working together through nonprofit efforts there is a path forward to improve achievement for boys and young men of color, specifically Black and Brown boys, creating a better future for Nashville and all of its citizens.
Molette Family Impact Advised Fund
Community Enrichment
In honor of Lee Molette's 40th Birthday, friends and family rallied to establish the Molette Family Impact Advised Fund. Through a multitude of donations, this Fund will serve to strengthen and improve quality of life in the Middle Tennessee and beyond.
McDonald Association Collective Collaboration - Light Into Darkness Fund
Human Services
Clinton McDonald started McDonald Association Collective Collaboration Light Into Darkness (MACC-LID) to share God's blessing and message. The MACC-LID Fund complements the efforts by supporting programs that positively impact the educational, emotional and physical health of children and families.
Matthews Mission Fund
Human Services
Jordan Matthews established Matthews Mission in 2016 to give back to the communities that have shaped him as an athlete, teammate, friend and citizen. Matthews Mission central theme is to work with these communities to FEED: Feed the hungry, Educate the children, Empower the family and Donate to those in need.
Matthew & Anne Kennedy Designated Fund for Fisk University
Fisk University
Matthew Kennedy and Anne Gamble Kennedy were both distinguished pianists who found their way to Fisk University during the 1940s to study music. This Fund benefits the Anne Gamble and Matthew W. Kennedy Endowed Scholarship in support of Fisk music students' education, which Dr. Kennedy established in 2001 to honor his late wife.
Lillian Dunn Thomas Designated Fund for March of Dimes
Agency Support
"Doing service for people is the most important thing to me," Lillian said. Her interaction with Nashville youth and tireless activity throughout her 80-plus years has obviously kept her young at heart. Lillian created her Fund to address one of her main concerns – helping children with physical disabilities.
John W. Work III Memorial Foundation Scholarship Fund
Scholarship
John W. Work was an inspiring teacher at Fisk University for 39 years, head of the Music Department for a number of years, director of the famous Jubilee Singers, and an internationally known composer and arranger.  This Scholarship is intended to award one or more scholarships to undergraduate juniors, seniors or graduate students, especially African American, pursuing a degree in music
John R. Story Memorial Advised Fund
Memorial
The John R. Story Memorial Advised Fund was created to recognize the life of Charles Story's father. Though not highly educated, John was a voracious reader and student of language. Charles honors his father's legacy through this Fund, proceeds of which support literacy efforts in the greater Nashville community.
JoAhn Brown Nash Memorial Scholarship Fund
Scholarship
JoAhn Brown-Nash's major focus and passion throughout her entire professional career was education. She committed herself to using her talents in every way she could to fulfill the hopes and dreams of young people. Because of her vision to enrich the lives of children and her exemplary service to Links, Inc., the Central Area Links, Inc. honors her memory with this scholarship.
Jerry Newson Scholarship Fund
Scholarship
Jerry Newson Jr. believed in the possibilities that education offers the mind, body and spirit at any age. This Scholarship was established as a fitting testimonial to the man who lost his life in the line of duty as a deputy of the Davidson County Sheriff's Department.
iCHope Fund
Human Services
Chris and Linda Hope established the iCHOPE Fund to provide support for individuals and families from diverse backgrounds in Nashville, TN, Rock Hill, SC and Miami, FL. 
Hick-Hop Humanitarian Advised Fund
Humanitarian
With his blend of country, rap, and rock 'n roll, Cowboy Troy dubbed the style "hick-hop," carrying it from his hometown of Dallas, Texas, to the Nashville music scene and beyond with success on the Billboard Country Albums chart. This Fund allows Troy and his wife, Laura, to support the charities in which they believe.
Grace M. Eaton Day Home Endowment Fund
Agency Endowment
Founded in 1926, Grace M. Eaton Childcare and Parent Resource Center was the first nonprofit childcare organization in Nashville, established for the express purpose of serving black, low-income, inner-city children. This endowment is a component of that commitment to nurturing young lives.
FISK Jubilee Singers' Fund for the Future
Arts
Bill Friskics-Warren wrote, "No single group has given African American spirituals greater exposure in this country or around the world than the Jubilee Singers of Fisk University." This Fund is designated to support this community treasure in perpetuity.
Emmett H. Turner Scholarship Fund
Scholarship
Emmett Turner ably served the Davidson County police for 34 years, culminating in the rank of Chief. Upon his retirement, friends and admirers wanted something meaningful for which to show him their appreciation for his hard work. It is fitting that from now on, with the aid of the Emmett H. Turner Scholarship, TSU will be graduating students who will follow in his footsteps, making life safer for us all.
The Ed and Charlie B. Temple Scholarship Fund

Scholarship
Dr. Henry Foster Endowment to Benefit I Have A Future
Teen Pregnancy
I Have a Future is a comprehensive teenage pregnancy prevention program that works with male and female youth, 10 to 18 years of age, who reside primarily in the inner-city community houses of Davidson County. The program motivates by preparing youth for college, vocational careers and the immediate job market. 
Dr. Emma Jean Lambert Memorial Scholarship
Scholarship
Dr. Emma Jean Lambert Memorial Scholarship Fund honors Dr. Lambert's wish to see students at Fisk University in the Arts, Healthcare and Religion continually benefit from education.
DeLois Jackson Wilkinson Community Advised Fund
Community Enrichment
DeLois Jackson loved this community and was a vocal advocate for the changes she thought would make it better. She invested deeply in solutions to its ills. How fitting that, at her passing, her five children established this Fund to support the nonprofits and charitable causes she held de
David Williams II Scholarship Fund
Scholarship
David and Gail Williams Family Advised Fund
Community Enrichment
David and Gail Williams established their Fund in 2009 to make their charitable giving easier for their children.
Dariana Marie Byone Memorial Scholarship Fund
Scholarship
This Scholarship in memory of Dariana Marie Byone supports African American or Native American seniors at Booker T. Washington High School for the Performing and Visual Arts in Dallas, Texas.
Coach Edward S. Temple Fund for New Hope Academy
Scholarship
Bob and Lois Holmes Memorial Fund
Memorial
The Holmes family honors the legacy of Robert L. "Bob" and Lois Holmes by establishing this fund to support to continuing arts education of public school students through support of the Tapping Individual Potential Program.
Bishop Joseph and Stephaine Walker Scholarship
Scholarship
Bishop Joseph and Stephaine Walker Scholarship Fund benefits African American students from Middle Tennessee (having lived here no less than one year), with a GPA of no less 2.5, and with a history of community service.
African Methodist Episcopal Church Endowment Fund
Agency Support
As support for the African Methodist Episcopal Church's commitment to education, this Endowment Fund will provide financial assistance to young men and women who are training for the ministry in the A.M.E. Church.
260 Change Fund
Community Enrichment
260 Change Fund envisions a thriving community that possesses a sustainable culture of giving through collective philanthropy made possible by unifying resources and empowering agents of change. 
100 Black Men of Middle Tennessee Endowment Fund
Agency Support
100 Black Men of Middle Tennessee, established in 1991, charged itself with the mission "to nurture and enhance the growth, development and opportunities for young black males of Middle Tennessee."
The Tamara and Eddie George Legacy Fund
Education, Entertainment, Entrepreneurship
The Tamara and Eddie George Legacy Fund positively impacts communities by providing financial and community support to organizations and individuals that support excellence in education, entertainment, and entrepreneurship, including providing funds for high-qualified programming and enrichment opportunities.
---
Black-Led Nonprofits to Support
Organization Legal Name
Mission Statement
100 Black Men of Middle Tennessee
To nurture and enhance the growth, development and opportunities for young Black males of Middle Tennessee.
4:13 Strong, Inc.
To break the cycle of poverty, crime and dependency by providing faith-based educational, vocational, and life skills training.
ABC Sports Foundation
As a non-profit organization, our mission at A.B.C. Sports Foundation is to provide current and former athletes with resources to make a meaningful impact in their communities. We focus on mentoring youth through financial literacy, social justice, health and wellness, education, and, of course, sports! Our main purpose at A.B.C. Sports Foundation is to connect Athletes and Businesses through Community Initiatives.
American Heart Association
The American Heart Association is a national voluntary health agency whose mission is building healthier lives, free of cardiovascular diseases and stroke. The Mission Statement of the American Heart Association is: To be a relentless force for a world of longer, healthier lives.
Armed Services YMCA of the USA - Fort Campbell
The ASYMCA enhances the lives of military members and their families in spirit, mind and body through programs relevant to the unique challenges of military life.
Aspiring Youth Enrichment Services
Our mission is to provide educational programs which teach underserved youth how to obtain the skills necessary for becoming financially self-sufficient, by using a holistic and comprehensive approach in helping the youth and their family.
Backfield in Motion
Backfield in Motion is a non-profit organization focusing on education through mastery of literacy and numeracy skills of at-risk youth that leads to a high school diploma, a foundation for higher education, and the on-job skills needed to enter the world of work, while using athletics as an incentive for academic improvement.
Bethlehem Centers of Nashville
Bethlehem Centers of Nashville promotes self-reliance and positive life choices for children, adolescents and seniors in Middle Tennessee by delivering and advocating quality programs and services.
Bloom Into Destiny
Bloom Into Destiny's mission is to help women overcome the effects of trauma and systematic barriers by dismantling the negative impact and providing programs and resources to recover from the effects of trauma and dependencies by arming them with the tools to find healing by rewriting the narrative of their past and to find their true self.
Boys and Girls Clubs of Middle Tennessee
Our Mission is to enable all young people, especially those who need us most, to reach their full potential as productive, caring, and responsible citizens. This mission is accomplished through our after school, summer enrichment, and sports programs at eleven separate Clubs in Davidson and Williamson County. In everything we do, our programs and activities instill in Club members four things: a sense of competence--they can do something and do it well; a sense of usefulness--whatever they are doing, it is of value and worthy of their time; a sense of belonging--each child feels they are special and are part of something significant; and a sense of power/influence--the knowledge that their voices will be heard and that they too can influence their environment.
Break Away
Our mission is to empower and inspire victims of domestic violence and sexual assault. To provide comprehensive services so that survivors can prosper in their mental health, wellness, and enhance and cultivate new skills.
Breaking The Ssickle Cell Cycle Foundation, Inc.
Breaking The SSickle Cell Cycle Foundation seeks to promote sickle cell disease awareness, education, and prevention through community education and service.
The foundation provides connections to healthcare education, resources and services for those at-risk for and/or affected by sickle cell disease within the community. In addition to providing sickle cell disease education within the community, Breaking The SSickle Cell Cycle Foundation Inc., also seeks to bridge the gap in sickle cell disease education among healthcare professionals unfamiliar with sickle cell disease.
Brooklyn Heights Community Garden
To build community by reconnecting with nature and growing our own food.
Cafe Momentum Nashville/Momentum Advisory Collective
Café Momentum Nashville's mission is to transform young lives by equipping justice-involved youth with life skills, education, and employment opportunities to help them achieve their full potential.
Children Are People, Inc.
To unlock the potential of at-risk youth,
To remove barriers to their success,
To inspire character development, academic achievement and community involvement
...as only CAP can.
Christian Community Services, Inc.
CCSI's mission is to equip and empower underserved families, through caring relationships, to achieve a legacy of social, spiritual, and economic self-sufficiency. CCSI has a proven track record of helping families progress from government dependency to housing self-sufficiency and greater wellbeing. CCSI also helps low to moderate income families achieve financial stability and home ownership. CCSI has a unique approach to financial stability that addresses both the mindsets and behaviors that impact money management decisions. We provide the tools, encouragement, mentoring, accountability and some start up asset funds needed to reduce debt, improve credit, increase savings and achieve long-term asset goals such as home ownership, higher education or establishing a small business. There is a community and economic impact by families moving from government dependency to self-sufficiency. The economic impact of CCSI has achieved an estimated savings of $3.2 million to taxpayers in government subsidies by families no longer needing/receiving government assistance and moving into their own homes or private fair market rentals. Additionally, over 155 families have become homeowners and contributed to the local economy over $20 million dollars in housing sales and estimated property taxes over a million dollars in 25 years. The community benefits from increased numbers of stable families getting involved in their communities and contributing to the local economy. Additionally, the added value of improved prospects and quality of life for families and children is priceless.
Chrysalis Oral Health Care Alliance
To impact local communities by bringing back smiles and transforming lives through access to affordable dental care.
Clarksville Montgomery Co. Adult Literacy Council
To promote public awareness of the need for literacy education. To recruit students who are under-educated in basic reading, computation skills, and/or English as a second language. To promote the recruitment and training of tutors interested in teaching adults with low reading and computation skills. To work in cooperation with other literacy projects. To obtain and allocate funds for local literacy programs. To support the Montgomery County Adult Education program.
Clarksville-Montgomery County Senior Citizens Association
Our mission is to provide a multi-purpose facility and services for seniors that will enhance their enjoyment and quality of life.
Coalition of Black Social Workers
The Coalition of Black Social Workers exists to engage, connect, and empower Black social students and professionals.
Corner to Corner
Corner to Corner is a community-led nonprofit, co-creating meaningful economic growth with historically underestimated Nashvillians through knowledge, tools, and networks.

David Jones, Jr. Assisted Living Center, Inc.
The mission of the David Jones Jr Assisted Living Center (DJJALC) is to provide safe, comfortable, and affordable housing as well as an enhanced quality of physical, psycho-social, educational, and spiritual life for seniors.
Dynamic Young Minorities of Nashville - In the Rough
To provide a safe space for inner city and minority youth as we refine, enrich, and empower them through scholarships, mentoring, and community outreach.
It takes a village to raise a child. We help individuals cultivate high self-esteem, achieve scholastic excellence, and attain fulfillment in life realizing their full potential and purpose.

East Nashville Hope Exchange, Inc.
Our mission is to strengthen literacy of at-risk children in East Nashville and beyond.
Edgehill Neighborhood Partnership
The mission of ENP is to work for justice and equity with our neighbors in Nashville, Tennessee, through building relationships, community action, service, and empowerment. ENP's motto is "Neighbors doing what neighbors do." We help each other to strengthen our community. We seek innovative approaches to education, community co-ops, and affordable housing, in order to build a more vital community in which to live, work and play. To that end, ENP manages 3 programs: (1) The Spot, an after-school program for 7th - 12th-grade students, supporting them to become their best selves; (2) the FreeStore, a community cooperative, where neighbors share a meal and "shop" for household, personal and cleaning items not eligible for Food Stamps; (3) As the affordable housing subzone captain of the Nashville Promise Zone, ENP engages in community action by supporting resident tenants to self-advocate for affordable housing and addresses development, gentrification, transportation, and safety issues.

Three principles guide ENP: (1) As a neighbor, ENP seeks to address the concerns identified by community stakeholders: residents in public housing, in single-family homes, and the business community. (2) ENP partners with others already engaged in effective programs. Current partners include West End United Methodist Church, Belmont United Methodist Church, Open Table, the Nashville Food Project, Oasis Center, NOAH, Belmont University, and Vanderbilt University. (3) ENP is volunteer-driven: this is how we build relationships, understand needs and work to improve our community.
Education Trust, Inc.
The Education Trust is a national nonprofit that works to close opportunity gaps that disproportionately affect students of color and students from low-income families. Through our research and advocacy, Ed Trust supports efforts that expand excellence and equity in education from preschool through college, increase college access and completion particularly for historically underserved students, engage diverse communities dedicated to education equity, and increase political and public will to act on equity issues.
Eighteenth Avenue Community Center
Our mission is to empower and enrich our children, families and community
Elijah's Heart
Our mission is to assist underserved children and their families with a primary focus of community development, which includes literacy (education), hunger relief, financial and social life skills, and musical arts, and to raise awareness about their situations to inspire others to act.

F.I.N.D. Design
The F.I.N.D. DESIGN exists to mitigate the effects of systemic and personal trauma on Black girls, and other girls of color ages 11-17, by providing safe spaces for healing, long-term mentorships, and programming that transform their mental health and overall well-being.
Family Affair Ministries, Inc.
Family Affair Ministries, Inc.'s mission is to provide support and enrichment to children and their families in low-income communities in an effort to 'Restore Families, Rebuild Communities, Through God's Hand Extended'. Our goal is to transform and restore families by guiding them on a pathway from poverty to productivity to prosperity. Our approach to family transformation, restoration, and community rebuilding is like the "One-Stop-Shop System" designed to destroy the systemic external and internal elements that sustain poverty.
Fannie Battle Day Home for Children, Inc
Our mission is to provide affordable and accessible high-quality childcare while empowering families to reach their fullest potential. We continuously work to achieve our mission through our core values: Teaching Children, Empowering Families, Strengthening the Community.
Fashioned In His Image Total Women's Center, Inc.
Our mission is to empower women and teen girls to be healthy and productive by applying Christian principles to everyday living.
Fisk University
Mission: Fisk University produces graduates from diverse backgrounds with the integrity and intellect required for substantive contributions to society. Our curriculum is grounded in the liberal arts. Our faculty and administrators emphasize the discovery and advancement of knowledge through research in the natural and social sciences, business and the humanities. We are committed to the success of scholars and leaders with a global perspective. VALUES The D.E.T.A.I.L.S. represents Fisk's core values. Our values reflect our overall ethical and moral engagement. We, the Fisk Family, seek to internalize these principles and apply them in our day-to-day work and in our lives. Read Fisk's Mission & Values. Read Fisk's Mission & Values
Foston Foundation
It is the mission of the Foston Foundation to train caring adults to be able to guide at-risk Youth to adulthood by helping them establish all twelve of their identities and go through all three phases of adolescence. At the same time the Guides are finding and nurturing the teens gifts and neutralizing any Invisible Esteem Destroyers (IED) or any Adverse Childhood Experiences (ACES) that are found along the way.
Girl Scouts of Middle Tennessee Inc.
Girl Scouts of Middle Tennessee is the premier leadership organization for all girls to have the opportunity to pursue greatness, create sustainable change in their communities, and actively transform the world around them now and for future generations.
Girls on the Run of Middle Tennessee
We inspire girls to be joyful, healthy and confident using a fun, experience-based curriculum which creatively integrates running.

Girls on the Run is a non-profit after-school program that uses the power of running to educate and prepare 8 to 13 year-old girls for a lifetime of self-respect and healthy living. Our research-based curriculum teaches life skills for the whole girl; body, brain, heart, spirit, and social connection. The program culminates with a celebratory, non-competitive 5k to teach a sense of accomplishment and goal setting.
Growth Enterprises Nashville, Inc
The mission of the Nashville Business Incubation Center is to cultivate the growth and development of small business owners, with a focus on women, minorities, and veterans, through 360-degree business support, knowledgeable mentors, and a results-driven curriculum.
Healing Minds and Souls
A faith based community dedicated to healing trauma through educational classes resources and fostering wholeness among the community.
Heaven South Inc. / The Store
The Store community empowers and dignifies low-income families and the elderly who are seeking self-sufficiency by providing choices for food.
Homework Hotline
Homework Hotline's mission is to help Tennessee students in grades K-12 learn, understand and complete challenging assignments, and master new concepts through free one-on-one tutoring by phone and online chat. With Homework Hotline's support students are able to return to school more prepared and less discouraged.

Support a Hotline tutor! Homework Hotline depends on donations, financially partnering school districts, grants, and individual donors like you to support free tutoring for all TN K-12 students. Donate during The Big Payback to support the part-time hours of three certified (or retired) teachers who work with Homework Hotline.
Hope Center Adoption and Family Services Inc.
To nurture forever families through Christ-centered counseling and adoption services.
Horizons at University School of Nashville
Horizons at USN is a transformative, educational summer program serving students from low-income families with a broad range of academic abilities. Horizons supports children from the South Nashville area who stay with us throughout their elementary, middle, and high school years, adding a grade level of 15 students each summer until the program serves 180 rising first through twelfth graders. A key to the success of this program is that students are given the opportunity to attend for twelve consecutive summers.
J.C. Movement, Inc
J.C. Movement, Inc. is going beyond the walls to pour into people and relate to them in a real way while pushing them into purpose as we move through inspiration, education, films, music, and art.
Kymari House, Inc.
Our mission at Kymari House is to build strong families, informed communities, and resilient children.
Launch Mentorship
Our mission is to promote the academic and extracurricular success of students by providing them with the support & tools necessary to independently develop & accomplish post-secondary goals.
LEAD Public Schools, Inc.
LEAD Public Schools prepares all of our students with the knowledge and skills to succeed in college and in life.
Legal Aid Society of Middle Tennessee and the Cumberlands
Legal Aid Society of Middle Tennessee and the Cumberlands' mission is to advance, defend and enforce the legal rights of low-income and vulnerable people in order to secure for them the basic necessities of life.
Living Development Concepts Inc.
Our mission is to provide reliable housing services in the development of safe, decent, affordable housing for low-to-moderate-income individuals/families. To provide quality referral services and function as a liaison along with the housing counseling partners to our clients. Our purpose is to operate as an advocate for housing acquisition opportunities within the community through awareness of resources.
Matthew Walker Health Center
To provide quality health care, health education and to promote wellness.
Maury County Senior Citizens, Inc.
The mission of the Maury County Senior Center is to provide opportunities for senior citizens to meet as a group for activities and services designed to support their independence and encourage their involvement in and with the community, and to serve as a focal point for the delivery of basic services to senior residents in the Maury County area.
McNeilly Center for Children
Our mission is to provide high quality, affordable early care and education for children ages 6 weeks to 5 years whose parents are working, in job training, or in school, and further, to support the families through parent education and social services.
MDHA Housing Trust Corporation
The mission of the MDHA Housing Trust Corporation is to engage and assist in the development of affordable and mixed-income housing in Nashville, Tenn., as an instrument of the Metropolitan Development and Housing Agency (MDHA), and to engage and assist MDHA in its community and urban development activities by way of donations, loans and grants.
Meharry Medical College
Meharry Medical College is a national treasure, with a long, successful history of meeting the healthcare needs of the underserved. Meharry Medical College is a global academic health sciences center advancing health equity through innovative research, transformation education, exceptional and compassionate health services and policy-influencing thought leadership. True to its legacy, Meharry empowers diverse populations to improve the well-being of humankind. The Meharry mission is firmly rooted in its core belief that health care -- irrespective of one's social standing or economic means -- is a basic human right. Perhaps the College's greatest and most enduring contribution to health care is the number of its graduates who serve in medically underserved communities. Throughout its 146-year history, Meharry has been highly regarded as a respected advocate for quality, community-based healthcare and research in the biosciences. Meharry is a community partner serving the medical needs of Nashville residents and extending our reach globally as our researchers seek to eliminate health disparities that impact underserved communities around the world. We collaborate in strategic partnerships with likeminded organizations that strive for excellence in education, research, and patient care. Meharry is a community of scholars and learners committed to excellence. These are our core values: Accountability with transparency; Equity with inclusion; Respect with collegiality; Service with compassion and Integrity without exception.
Mending Hearts, Inc.
Mending Hearts helps women restore their lives from addiction through a long term treatment program that offers hope and healing in a supportive community environment - regardless of their ability to pay.
Monroe Harding Inc.
Enable foster care children and older youth to live in Homes with Healing and Opportunities for successful adulthood.
Moves & Grooves, Inc.
Moves & Grooves, INC. is a 501(c)3 non-profit organization that is committed to enhancing the lives of at-risk youth through arts and education within the Metro Nashville area. Our mission is to enrich the lives of youth by empowering them to discover their potential through academic achievement and the arts. We do this by using the ARTS as a platform to engage youth in self-exploration, while providing opportunities for leadership, education, and service. We seek to inspire youth to create for themselves, discover, learn, and grow through the arts.
Mt Olive Cemetery Historical Preservation Society
The mission of the Mt. Olive Cemetery Historical Preservation Society is to emphasize the influence and contributions of African Americans regarding the history, education, development, growth and culture of the Clarksville, Tennessee area.
My Friend's House Family and Children Services Inc
The mission of My Friend's House Family & Children Services, Inc. is to provide a structured, therapeutic, nurturing home to at-risk youth who are unable to remain in their family home by offering a safe, stable and welcoming place to address challenges, improve their behaviors and learn to make more positive choices.
NASBA Center for the Public Trust
Our mission: To develop, empower and promote ethical leaders. Our vision: Advancing ethical leadership to influence the world.
Nashville CARES
Nashville CARES' mission is to end the HIV/AIDS epidemic in Middle Tennessee. We work to achieve this through education, advocacy and support for those at risk for or living with HIV.

Our VISION is a community where HIV infections are rare, and when they do occur, everyone with HIV/AIDS has access to the care, treatment and support to achieve optimal health and self-sufficiency without stigma or discrimination.
Nashville Freedom School Partnership
Nashville Freedom School Partnership uses liter acy to instill cultural pride, self-assurance, and active citizenship with a primary focus on children and youth of color.
Nashville General Hospital Foundation
The Nashville General Hospital Foundation procures resources to support the patients, families, staff and community of Nashville General Hospital.
Nashville Youth for Christ
Youth for Christ reaches young people everywhere, working together with the local church and other like minded partners to raise up lifelong followers of Jesus who lead by their godliness in lifestyle, devotion to the word of God and prayer, passion for sharing the love of Christ and commitment to social involvement.
NashvilleHealth
Our mission is to build and advance partnerships and initiatives that tackle Nashville's most critical health challenges.
National Alliance of Panafrican Seminarians (NAPAS)
Our mission is to build equitable housing and mentor families to grow healthy homes and neighborhoods.


National Museum of African American Music
The National Museum of African American Music's mission is to educate the world, preserve the legacy, and celebrate the central role African Americans play in creating the American soundtrack.
New Hope Academy
New Hope Academy is a Christ-centered school educating children of diverse racial and socio-economic backgrounds by establishing a Biblical worldview and preparing each child to flourish academically, emotionally, socially, and spiritually.
Next Level Skills College Prep and Recruiting, Inc.
We prepare 8th grade, high school, and college students and student-athletes to go to college, graduate with a college degree, and start a professional career that they love and can use to be impactful in their community.
One WillCo
At One WillCo, we believe that school should be a welcoming place for every child, regardless of their race or ethnicity. That's why we educate our community about the challenges diverse populations face, advocate for actionable solutions, and unite community members who align with our mission.
Preston Taylor Ministries
PTM empowers Preston Taylor children and youth to discover and live their God-inspired dreams, develop a love for learning, and build joy-filled friendships that glorify Christ Jesus.
Project Reflect
The Project Reflect mission is to transform urban America through education and policy reform?to save every child. We envision a community of empowerment and equality through education, self realization, personal responsibility, and service to others.
Project Return, Inc.
Project Return's mission is to provide services and connect people with resources needed to return successfully to work and community after incarceration. Our vision is a full and free life after incarceration.
Promise Land Heritage Association
To preserve and interpret the Historic Promise Land Site and to implement interpretative programs specific to the Promise Land Community and the African American cultural experience in general.
Raphah Institute
Every day, lives are traumatically impacted by harm in communities. Structural and systemic defects often leave people very few healthy options that, when coupled with minimal opportunity for healing or transformation, result in generational cycles of harm. But, what if, as a community, we decided to interrupt these complicated, layered challenges? What if we could develop scalable and adaptive strategies that disrupt societal harm to prioritize our pursuit of individual healing and positive transformation? Raphah Institute partners with community leaders to design and implement solutions that empower us all to heal from harm. Through strategic partnerships that look beyond the status quo, Raphah Institute represents a chance to confront our more complicated community challenges, take a uniquely crafted approach, and see transformative healing for all.
Rebuilding Together Nashville
Rebuilding Together repairs homes, revitalizes communities, and rebuilds lives. Since 1995, we have provided critical home repair and home rehab assistance for low-income homeowners, and have made meaningful improvements at the homes of over 600 families. We work to preserve affordable housing, prevent the displacement of families, empower seniors to age in place, help our city recover from natural disasters, and retain the fabric of Nashville's neighborhoods.
Renewal House
To treat, promote healing and provide housing for women and their children affected by substance use disorders.
Rocketown of Middle Tennessee, Inc.
Offering HOPE to the next generation through Christ's love
Royal Table Inc
Royal Table Inc is devoted to create a safe space for Youth in these unprecedented times, suicide prevention, offer STEM projects to youth and teach financial literacy to create streams of income to reduce violence, assist homeless and food drives.
Southeast Center for Cooperative Development
The Southeast Center for Cooperative Development seeks to increase economic opportunities and benefits by creating and strengthening cooperative businesses and networks that grow an equitable economy. We give priority to developing the power and capacity of low-income, minority, and/or underserved areas of Metro Nashville and beyond.

We envision a society in which we have eliminated racial and community disparities in employment, wealth, and income with an economy that sustains people, community and earth.
Spring Hill Enrichment TN
Our mission is to educate and foster a love of learning. We firmly believe that if you encourage your children (and yourself) to learn new things, you will forever grow. There are unlimited possibilities in what we can achieve when we are not afraid to simply begin.
Sumner County CASA
Sumner County CASA's mission is to recruit, train, and supervise community volunteers that act as advocates for the best interests of children involved in juvenile court proceedings; primarily as the result of abuse and/or neglect. These volunteers establish a relationship with the child, and act as the 'eyes and ears' of the judge to provide information needed so that informed decisions can be made in their cases. A CASA volunteer is often the only stable adult presence in a child's life and they continue to advocate for that child until a safe permanent home is found.
Sweet Sleep, Inc.
Sweet Sleep exists to demonstrate God's love and hope in Christ to the world's orphaned and vulnerable children, improving their quality of life. Sweet Sleep accomplishes this mission by empowering caretakers in these children's communities through cooperative businesses and micro-finance savings groups. Originally founded to provide beds to vulnerable children, Sweet Sleep still distributes beds on short term mission trips, through partnerships with US-based churches and engaging VBS curriculum for children.
TeamCJColas Uterine Cancer Foundation
The mission of TeamCJColas Uterine Cancer Foundation is to educate women about the most common form of cancer involving the female reproductive organs. Education includes being aware of the common symptoms and risk factors thereby promoting early detection and treatment as needed. The foundation focuses on the racial and health disparity targeting primarily Black women as well as all women residing within socially and economically underserved communities. We provide support such as free transportation and free child care for cancer patients.
Tennesseans for Alternatives to the Death Penalty
Tennesseans for Alternatives to the Death Penalty (TADP) seeks to honor life by abolishing the death penalty in Tennessee. TADP works to accomplish this mission by educating Tennesseans about the problems with the death penalty system and empowering citizens to act for change.
Tennessee Aquatic Project and Development Group Inc.
Our vision was to create a youth based organization that would provide at-risk and inner city youth in particular, a complete approach to personal development. We would stress the educational, personal, community, occupational, ecological and human connections that compose our world and life choices. Using aquatics and travel as major incentives, we would organize The Tennessee Aquatic Project Group for youth aged 8-18.
Tennessee Educators of Color Alliance
TECA's mission is to amplify the voice, presence, and support for educators of color while remaining student-centered and solutions-oriented. We believe that in order to ensure strong accountability systems that promote equitable outcomes and excellence in education, more educators of color need a shared elevated voice and stronger presence. Additionally, ALL students, especially students of color, deserve racially and ethnically diverse teachers in their classroom.
Tennessee Higher Education Initiative, Inc.
The Tennessee Higher Education Initiative (THEI) is a non-profit organization working to disrupt systems of harm and create opportunities for autonomy and success by providing college access to people inside Tennessee prisons, preparing students for skillful re-entry, and reducing barriers to continued education and achievement.
TennesseeCAN, Inc.
50CAN: The 50-State Campaign for Achievement Now is a nonprofit organization that advocates for a high-quality education for all kids, regardless of their address.

TennesseeCAN: The Tennessee Campaign for Achievement Now is affiliated with the national 50CAN network. TennesseeCAN empowers local stakeholders-from community members to policymakers-to advocate for improved K-12 education policies that put Tennessee children first. Together, we are working to ensure students have access to high-quality schools, teachers and resources that prioritize their unique educational talents and needs.
The Equity Alliance
THE EQUITY ALLIANCE unapologetically builds independent Black political and economic power. We educate, empower, and mobilize Black people to take action and keep our government in check.

We envision a world where Black communities are thriving and have equitable access to power, resources, and the freedom to choose our quality of life.

The Hope Station, Inc.
To provide financial assistance relief for single working mothers, whose income disqualifies them for government assistance.

The Housing Fund
The Housing Fund provides resources and creative leadership to help individuals and communities create and maintain affordable and healthy places in which low and moderate income people live.

The Housing Fund is a private non-profit, Community Development Financial Institution (CDFI). We were founded in 1996 to help create solutions to the affordable housing crisis- and we are still in operation combatting these same issues today. Our goal is to create affordable homeownership opportunities that are sustainable for generations.

Our programs operate across the entire state of Tennessee, serving populations with incomes at or below 80%, 100%, and 120% of the Area Median Income (AMI). We offer programs such as Down Payment Assistance, Shared Equity Homeownership, and Home Improvement Loans.
The Kayson Kids Foundation
We are committed to celebrating the lives of children hoped for, living and deceased. Creating indelible events and meaningful activities for families of our community with Christ as our foundation.
The West End Connection
Preserving the rich history of this community. Connecting with one another for the betterment of West End while fostering new relationships with our neighbors.
Transformation Life Center
Our Mission:
Ignite (purpose), Inspire (success) and Transform the lives of African American collegiate students and youth living in underserved communities through Education, Leadership, Health & Wellness.

Our Vision:
"Cultivating future leaders to positively impact their community and the world!"

Our Programs:
Pathway To Success Initiative (P2SI) Leadership Academy
(10 Week Leadership Academy + College Scholarships)

Black Men Run, Brown Boys Read Initiative
(Literacy + Leadership + Health: 2nd to 5th Grade African American/Black Males)

12th Annual Steps of Success 5K Run/Walk
(Annual Fundraiser - September 10, 2022)

United Way of Rutherford County
The United Way of Rutherford and Cannon Counties improves lives by advancing opportunities for education, health and financial stability for all.
Unlimited Potential Community Development Corporation
The mission of Unlimited Potential Community Development Corporation (Unlimited Potential Inc.) is to create pathways for success to empower our community for spiritual, personal and economic growth.
Urban League of Middle Tennessee
Mission: The mission of the Urban League of Middle Tennessee is to enable African Americans, other minorities and disenfranchised groups access to economic self-reliance, power, parity, and civil rights by building better lives, stronger families, and connecting Middle Tennessee to employment, education, and support services
Verge Theater Company
Producing stimulating, affordable theater for Nashville. Providing opportunities for theater artistic to express themselves. Bringing small budget, topical, raw, representative, risky, Chicago style theater to Nashville.
Vine Branch Fellowship
Vine Branch Fellowship designs programs to equip individuals, families, seniors, and low-income groups with the tools to create healthier food options. VBF provides meals to uplift those going through difficult times. We seek to combat the growing concerns of diabetes, celiac, obesity, depression, and other chronic health illnesses. It creates opportunities with a centralized focus of connecting individuals and/or families with opportunities to assist those in need, through volunteering, and installing community gardens. VBF strives to connect the VINE of resources in communities to a BRANCH of individuals in need of assistance through FELLOWSHIP opportunities.
Water Walkers
We provide access and opportunities for youth in urban areas to experience watersports, outdoor adventure, and educational resources, resulting in confident and empowered leaders who are ready to walk on the rough waters of life.
WFSK Jazzy 88
JAZZY 88 strives to provide high-quality programming which is both educational and entertaining. Serving the Metropolitan Nashville area with information the general public can use in their daily lives.
When We Are Us Inc
Our mission is to ignite the talents and ideas of children in an underserved populous area by encouraging and supporting their future.

We want to make a difference in the lives of youth of Nashville by providing them with the tools, resources and support they need in order to shape them into the leaders of tomorrow. When We Are Us is a 501(c)(3) nonprofit offering the youth of Nashville a chance to reach their fullest potential.
Williamson County Homeless Alliance Inc
The mission of the Williamson County Homeless Alliance is to develop and maintain a permanent transitional sanctuary that meets the needs of people experiencing homelessness in Franklin/Williamson County Tennessee by partnering with local government, non-profits, businesses, individuals, and churches.
Wilson County Black History Committee
The Wilson County Black History Committee has a vision and mission to share the heritage, arts, and culture of African Americans who lived in Wilson County by restoring Pickett Chapel, a slave-built 1827 sanctuary, into a museum for education, events, and exhibits.
Wilson County Civic League
The Wilson County Civic League (W.C.C.L.) seeks to revitalize our community by empowering residents to become self-reliant, and economically secure. The W.C.C.L. will be the catalyst for this change by building coalitions and providing and implementing sustainable community development programs that improve people's lives. Our goal is to increase attendance in our programs by collaborating with the churches and other organizations. Encourage the tenants in our apartments to participate in our programs.Our vision is that residents will have the opportunity to create economically self-sufficient lives in a community that is flourishing with opportunity and growth.Core values: The W.C.C.L. seeks to strengthen the values of our community by developing and implementing charitable community development programs that emphasize volunteerism, charity, honesty, commitment and service.Motto: Preventive measures exceed rehabilative efforts.
Young Leaders Council
Young Leaders Council's mission is to train diverse, committed individuals to effectively participate on the boards of nonprofit organizations and make a difference in the community by replenishing the volunteer leadership base.
Youth Changes
Preparing today's youth to be tomorrow's leaders
Youth Empowerment Through Arts and Humanities
Youth Empowerment through Arts and Humanities, Inc. (YEAH!) is a 501(c)(3) nonprofit charitable youth arts organization in Nashville, Tennessee. YEAH! welcomes people of all backgrounds into a creative, collaborative community to amplify the voices of youth and underrepresented populations through educational arts and music programming.
Youth Encouragement Services
The mission of Youth Encouragement Services (YES) is to enrich the lives of Nashville's youth by providing opportunities that encourage them to reach their full potential spiritually, academically, socially, and physically through daily programming in a Christ-centered community.
YWCA Nashville & Middle Tennessee
YWCA Nashville and Middle Tennessee is dedicated to eliminating racism, empowering women and promoting peace, justice, freedom and dignity for all. It is the vision of YWCA Nashville and Middle Tennessee to focus on women and girls who desire to create a better quality of life for themselves and/or their families; to achieve self-sufficiency; and to increase their financial strength. YWCA will also be a spokesperson for those women who have no voice. Further, we will raise the awareness and diminish the incidence of violence and racism.